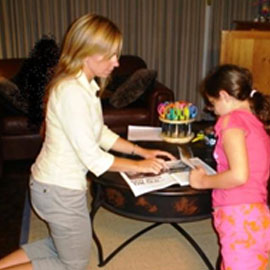 Behavioural Consultant (Psychology, BA)
Shayna Guenther, Learning 2 Place Inc.
Shayna Guenther, a 1997 Laurier psychology graduate entered her graduation equipped only with the knowledge that she wanted to work with children, but did not want to be a classroom teacher. It was not until two months following graduation, when Shayna began speaking with a pediatrician (her roommate's aunt) where she discovered the dynamic world of behavioural therapy. Immediately following her BA, Shayna began working with children diagnosed with autism privately in people's homes under the supervision of a Toronto-based psychologist. Later, she went on to refine her skills through a masters degree in Behavioural Psychology at the University of Nevada, Reno. Presently, Shayna works with children and youth where she implements Applied Behavioural Analysis, also known as ABA. Shayna also trains her staff and continues to develop programs to assist with the early intervention of this developmental disability. In addition to implementing ABA, Shayna runs a social skills centre for individuals with Autism Spectrum Disorder called Learning 2 Play, Inc. The program teaches those children who have been integrated into classroom settings how to appropriately interact with their peers.
At Career Services, we consistently recommend for students to talk with professionals in the fields they are contemplating, as well as get their feet wet through direct, strategic volunteering. Shayna certainly attests to this career planning strategy. During her undergraduate studies, Shayna volunteered extensively in a classroom setting as well as with various campus clubs. Essentially, "getting out there and doing" yielded far more insight into probable career paths for Shayna than exclusively predicting what she would enjoy from a psychology textbook.
Shayna's biggest reward as a behavioural consultant is successfully integrating the children she works with into a school or community environment. Her biggest challenge as a behavioural consultant is dealing with aggression, self-injurious behaviour and tantrums with her clients. Individuals with autism may engage in these behaviours in situations where they lack the ability to effectively communicate and articulate their needs or feelings. Shayna's goal is to teach these individuals how to successfully communicate in order to decrease these challenging behaviours – and in most instances it works!!
As a Laurier co-op student, Shayna visited Career Services regularly to learn about writing résumés, cover letters and how to conduct an effective job search. She now finds herself on the other side of the desk, screening résumés and deciding whether or not to extend interviews and job offers. With respect to Shayna's own career wisdom, she strongly recommends students interested in this field take learning and behaviour psychology courses and more importantly – develop as many contacts as possible because "you never know who you may call upon one day to help you!" Shayna is part of the Alumni Sharing Knowledge (ASK) Program. If you are interested in pursuing more in-depth information about behavioural therapy, Shayna can be reached through the ASK online program.