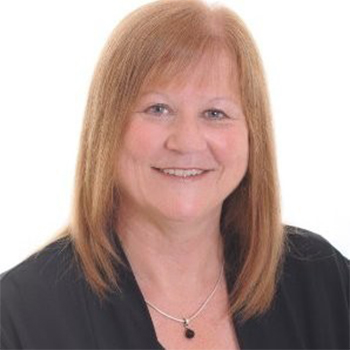 Management Consultant (Business Administration, BBA)
Joanne Marriott,  Marriott Ideas and Solutions
By: Connor MacGrath, Outreach & Support Peer

Since graduating from Laurier in 1984 with a Bachelor of Business Administration, Specialization in Marketing, Joanne Marriott credits her extensive job experiences and passion for interacting with different people as a key determinant in the success she has experienced to date. As the current Principal of Marriott Ideas & Solutions, Joanne advises organizations on how to keep up with the growing expectations customers have when it comes to service and the value they receive.

While at Laurier, Joanne became involved in a variety of activities on campus, such as being a Residence Life Don, a Director with the Students' Union and managing the Laurier Small Business Consulting Service. Within this latter role, Joanne was exposed to different types of businesses and developed key technical skills such as utilizing Nielsen market research while advising clients. Joanne also credits the structure of Laurier's BBA program and its emphasis on real-life cases and presentations as one of the most valuable resources for developing both soft and technical skills.

Upon graduation, Joanne began her career in marketing with Procter & Gamble as a Brand Assistant, conducting market analysis and reporting for various P&G brands. She continued to gain rich leadership experience in marketing management with various employers before launching her own firm, Marriott Ideas & Solutions, where she consults directly with companies to help improve the way they provide service to customers. Joanne feels that this is a critical differentiator that has a significant impact on a company's financial performance.

As a management consultant, Joanne values the variety of clients she is able to interact with on a daily basis and that no two days are truly the same. Joanne spends a great deal of time facilitating workshops for clients at conference centres or client offices. Workshop content often focuses on helping employees develop leadership and communication skills, or helping clients to foster self and team insights using tools such as Emotional Intelligence. Joanne noted that these workshops will always be in demand by companies, as customer needs are continually changing and businesses are eager to be able to adapt by seeking solutions from external consultants.

Joanne's role requires a lot of meetings with clients (face-to-face or over the phone) to discuss future engagements and bookings. Often, new clients approach Joanne seeking ways to develop their employees' communication and leadership skills or look to enhance their employees' emotional intelligence, which Joanne cites as fundamental attributes to delivering excellent customer service. Joanne works directly with prospective clients to formulate possible solutions, most commonly in the form of structured workshops designed to address the needs of the client. Joanne notes that the workshops she conducts are the most effective way to deliver these solutions, as she finds clients will request her services again for future workshops and engagements.


Joanne stresses the significance of having astute people skills in this line of work, as clients often have differing needs and it is important to make a great first impression. She also emphasizes strong organizational and budgeting abilities, as it is important to stay on top of your schedule and manage tasks effectively.

As a self-employed management consultant, Joanne enjoys being her own boss and maintaining a flexible schedule. She also appreciates having diverse clients from various industries, which provide her with the opportunity to experience various work environments and does not restrict her to a specific type of client. The client variety is one the key aspects of her business that she values most, as the solutions she provides to companies is not limited to specific industries, but rather can be applied in any setting.

Joanne noted that one of the best ways for students to differentiate themselves when breaking into marketing or consulting is to get involved and develop your soft skills as best you can. "It's important to not just focus solely on marks in school," Joanne says, "What will really help you stand out is moving beyond the academics and gain valuable real-life experience, whether it be an on-campus job or volunteering with a club. At the end of the day, marks will only get you so far." Joanne encourages students to really explore extra-curricular activities to uncover their passion. She also emphasized that it is common for consultants to accumulate experience in different functional areas such as marketing and sales before moving to consulting roles, as the diverse exposure to different kinds of clients and problems will serve as a valuable resource in future roles.