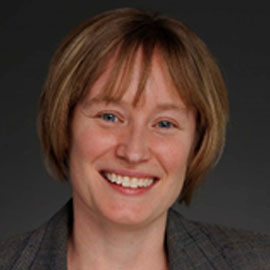 Associate Professor (Biology and Psychology, BSc)
Lori Ross, Dalla Lana School of Public Health, University of Toronto
Lori Ross graduated from Laurier in 1999 with a Bachelor of Science in Biology and Psychology. She currently works as an associate professor at the Dalla Lana School of Public Health, University of Toronto, in the Social and Behavioural Health Sciences Division. In her current position, she mainly divides her time between teaching and research.
During Lori's time at Laurier, she knew right away that she wanted to be involved in research. In order to succeed in this field, she took steps during her undergraduate degree to develop and strengthen her research skills. She completed a thesis in her final year. She also worked alongside a professor in the psychology department (Angelo Santi), helping with his research. Santi's mentorship allowed her to be part of academic publications even before she graduated. She attributes this success to being at a smaller school, which gave her more opportunities to get to know her professors and gain valuable research experience.
Lori's research experience made her a competitive candidate for graduate school. She accepted an offer to the University of Toronto, Institute of Medical Science where she completed her PhD in the area of women's mental health after a direct transfer from the masters program. Following her PhD, Lori also pursued a postdoctoral Fellowship with McMaster University and the Father Sean O'Sullivan Research Centre, St. Joseph's Healthcare Hamilton in women's mental health. This postdoctoral fellowship allowed her to further develop her publication record and learn skills such as grant budgeting, which are essential to working as an independent researcher.
While completing her postdoctoral fellowship, Lori began working as a research scientist at the Centre for Addiction and Mental Health (CAMH) where she continued to conduct research for approximately 10 years. In this position Lori was responsible for the supervision of graduate students as well as conducting her own research. Lori researched topics ranging from women's mental health during pregnancy and parenting to the mental health experiences of sexual minority people. This research has been published in a variety of academic journals and also developed into community education campaigns (for example www.bisexualhealth.ca). Lori very much valued her time with CAMH but after 10 years, felt ready to pursue a position that would also allow her to teach, in addition to continuing with her research.
In her current role, Lori directly teaches graduate students and involves them in her research. Her current research is more social science-based and is focused on community-based research versus her work at CAMH which was more oriented towards medicine. Her job involves carrying out all aspects of a research project, through the stages of conceptualizing the project and seeking research funding, to the process of data collection and analysis, and finally to sharing the findings with academic and community stakeholders.
Lori Ross' path to a tenure-stream associate professor position was not a traditional one. Those who choose to go down this route do not always start with positions outside of academia (e.g. in affiliated teaching hospitals). But Lori felt as though her position at CAMH gave her excellent research skills that prepared her well for this next step. Her advice for students who wish to become a research scientist or a professor is to seek out any and all opportunities that expose you to research, beginning as early in your undergraduate career as possible. The small community at Laurier is perfect for this, since it offers opportunities to really get to know your professors and their research programs.