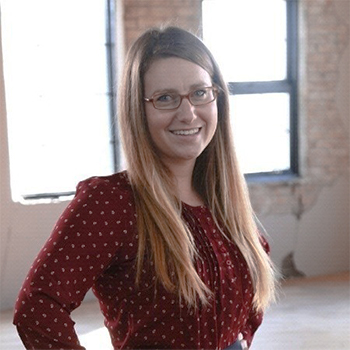 Community Manager (English Literature and Film Studies, MA)
Stefanie Baldwin, Desire2Learn (D2L)
By: Syed Azam Afzal, Career Centre Peer

Stefanie, an Ontario certified teacher, graduated Laurier with a Master of Arts in English Literature and Film Studies. Stefanie always envisioned herself as an educator. An opportunity to complete an alternative education practicum in the Queen's-Trent Concurrent education program encouraged her to think about educational roles outside of her Intermediate-Senior Teaching designation.

The first chapter of Stefanie's career was working as an instructor with Internationally Educated Professionals at the University of Waterloo. Stefanie later returned to Queen's University to complete a Master of Education degree specializing in the research of Internationally Educated Nurses and Canadian English Language Benchmark Assessment for Nurses (CELBAN).

Stefanie began her career with D2L as a Learning Solution Designer while completing her MEd, and transitioned to Instructional Design in her third year with the company. Stefanie most enjoyed designing new online learning assessments as a Learning Solution Designer, and creating innovative, gamified learning content as an Instructional Designer.

Now, as a Community Manager Stefanie works with teams across D2L to facilitate excellent teaching and learning experiences with Brightspace. Encouraging meaningful dialogue and interaction through the Brightspace Community website involves collaborating with members of the site to identify, design, and develop new interaction points as well as teaching and learning opportunities. Her work involves User Experience Design, User Interface Design, the curation of informative articles, and the facilitation of webinars, and online discussions.

Stefanie's role as Community Manager requires a willingness to continually learn and grow. The best part about the job is that she is surrounded by incredibly smart people, who are experts in a variety of fields from design, development, education, social media management and more! At D2L, people are always willing to learn from one another, and share their expertise. Several individuals who work in this area come from a communication, marketing, technical, or social media management background. However, qualifications for this specific area are quite diverse, as it is a relatively new field.

Stefanie's key advice to students is to find a way to develop new skills and learn about your existing strengths through professional development courses and extracurricular involvement. School, neighbourhood, and online communities teach us about the gifts we have that we can share with others, and inspire us to strive for new skills and more innovative ways to make our world a little brighter.