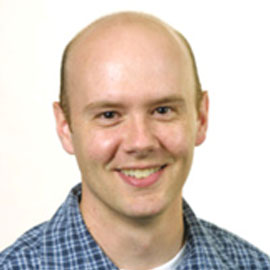 Faculty Member (Biology, BSc)
Matthew Smith, Wilfrid Laurier University
Matthew Smith graduated from Laurier in 1995 with a BSc in Biology. He then obtained a PhD degree in Biology from University of Waterloo. After completing postdoctoral training at Rutgers University in New Jersey and the University of Massachusetts, Amherst, Smith joined the department of Biology at Laurier as a faculty member in 2004.
Smith's interest in plant, molecular and cellular biology, and biochemistry was triggered by the courses he took in third and fourth year while completing a BSc at Laurier, which included an honours thesis. To further explore the field of molecular biology, he also enrolled in certain courses pertaining to molecular biology at the University of Waterloo since they were not being offered by Laurier at that time. His experience as a summer research assistant also contributed to his passion for research. Following the various courses he took and the experiences he gained outside of the lecture hall, Smith realized that designing and executing experiments to solve some of the many questions posed by the scientific community was most fascinating to him thus leading to a career in research.
As explained by Smith, it is difficult to describe a typical day at his job since the life of a researcher is extremely dynamic and no two days are ever the same. His range of duties include writing grant proposals and research papers, managing active grants, performing administrative duties such as paying salaries and bills, ordering chemicals and other lab supplies, and ensuring that lab personnel have the appropriate safety and specialty training to properly complete projects. In addition, Smith serves as an important member of graduate student advisory committees at Laurier as well as contributes to the scientific community at-large by conducting thorough reviews of manuscripts submitted to journals for publication and by assessing grant proposals.
Aside from the research component, Smith also covers a wide range of teaching duties. He is responsible for planning, preparing and delivering lectures and various teaching lab exercises, as well as marking student papers. To further contribute to the overall learning of the students at Laurier, Smith also participates as an active team player in various committees that make decisions relating to university life.
According to Smith, being one of the few people focusing on a particular question in science is the most intriguing aspect and the major advantage of being a researcher. He personally has also been attracted by the opportunity to live and work in different places. For instance, Smith has experienced working in New Jersey and Massachusetts as a postdoctoral researcher by travelling to visit several other labs and to attend conferences. He has also had the opportunity to meet great scientists from around the world. Furthermore, the skills gained as a researcher such as critical thinking, investigation and analysis, problem solving, interpersonal and communication are certainly universal abilities that can be transferred to almost any other position.
Smith further explains that working in a university lab can be particularly interesting because of the diversity of research personnel that can be found working there, some of whom are international visitors (e.g. postdoctoral fellows, PhD, MSc, undergraduate thesis students, summer research students, undergraduate and even high school volunteers). The ability of the personnel to focus on independent projects as well as work as a team while assisting the less experienced students master various lab techniques is an aspect of the profession that Smith enjoys a lot. Furthermore, Smith also does not view teaching and researching as mutually exclusive, but as being inter-dependent. Being a university professor allows him to teach through ongoing research. Also, the flexibility and independence of being a university professor is another noteworthy advantage of working as a researcher while teaching at a university.
The job of a researcher presents certain challenges that must be overcome to be successful. Smith points out that the major challenge is to attract and maintain funding so that adequate finances are available to manage salaries and afford essential lab supplies and research equipment. Part of the challenge also involves planning specific research projects for students, troubleshooting experiments, ensuring students are on track and writing research papers for publication to communicate valuable results. Researchers can be employed by government, industry and universities; however, job security is often difficult prior to achieving tenure within a university.
It is also important to note that a career in research can be fairly competitive. Smith suggests that certain fields such as molecular biology, biotechnology and environmental biology currently offer good opportunities because of newly emerging issues in these particular fields. Obtaining a position as a university professor can be somewhat competitive because of the relatively small number of positions available. However, this is counteracted by the fact that there are often fewer qualified individuals to fill those positions. A willingness to move to different locations significantly increases the likelihood of obtaining a position as a professor.
Being a researcher demands an immense depth of knowledge pertaining to your area of interest as well as adequate hands-on experience. For those pursuing a research career, it is crucial to begin exploring the field of research as an undergraduate student since this would allow one to begin identifying a niche topic. The road does not end once the area of interest has been identified, but involves a long journey that demands continuous investigation to identify gaps in knowledge, and understand how your particular research fits into the bigger picture. Hands-on experience is the other very important stepping stone. Volunteering in a lab or any other settings that will allow exposure to research as early as possible is beneficial. It also allows the opportunity to interact with senior students who have similar career aspirations and can possibly serve as mentors in the career journey. Curiosity about the world, persistence and a willingness to sometimes work long hours in a lab, critical thinking to effectively evaluate your own and other research projects, and adaptability to sustain the constantly changing technologies in research are some of the personal characteristics that the career as a researcher demands.
For those pursuing a research career, it is worthwhile to note that although the need for 'basic research' will never disappear, there is currently an increased emphasis on 'applied research.' Smith indicates that with the advent of the 'knowledge economy,' pursuing a career in research seems to promise fruitful results.