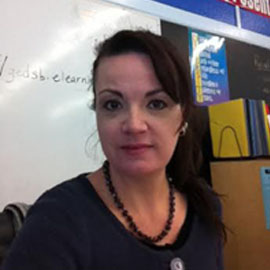 High School Teacher (Sociology, BA)
Andrea Murik
While attending Laurier from 1992-1996, Andrea received her Honours Bachelor of Arts degree in Sociology, with a minor in Geography. During her undergraduate studies, Andrea enjoyed the smaller class sizes and found that her studies, particularly the sociology program, allowed her to begin questioning her own place in the world, and what changes she wanted to see in it. After obtaining her undergraduate degree in sociology, Andrea went on to complete her Bachelor of Education at the University of Ottawa.
Andrea has been fortunate to have many different experiences throughout her career. She has taught everything from JK to grade 12 classes, special education, self-contained classes (classrooms for gifted students) and most recently Andrea is teaching at-risk youth. She has also taught at one of the top 10 scoring elementary schools in Ontario, as well as one that was in the bottom 10. Andrea explains that although she has experienced very different perspectives, when it comes down to it, kids are kids no matter where you are. They all need to feel secure and successful. 
Andrea originally applied to teachers college for the primary/junior level (grades K-6) and while working as a grade 5 teacher, she updated her qualifications by taking an intermediate "Individual and Society" course which allowed her to teach up to grade 10. When Andrea switched school boards, she couldn't get a job in an elementary school so she took a senior geography qualification (thanks to a minor in Geography she took at Laurier). This allowed her to teach up to grade 12 which led to her securing a special education position in a high school.
When asked about what she likes most about being a teacher, Andrea stated that working directly with students and getting to know them on a personal level, is her favourite part of teaching. Addressing their academic needs is only one of the ways Andrea inspires her pupils. She likes to challenge her students to view themselves and the world in different ways. For Andrea, the biggest reward of being a teacher is knowing that the future generation is sitting in her classroom and that she has the opportunity to make a positive effect on their journey and what they will choose to contribute to society. Although there are many rewards to teaching, Andrea explains some challenges that she faces.  Students don't always come to class ready and able to learn what you have to teach them; there are often more important issues in their lives they have to deal with. Andrea teaches at-risk students, so students with few credits, who have dropped out, been in jail, or have substance abuse or mental health issues. Some students are so broken that it's frustrating when you can't "fix" them. Teaching core curriculum to at-risk students is really a small part of what Andrea does; she constantly strives to give them the life skills they need to prepare them for the "real world." 
Advice that Andrea would give to current students thinking about becoming a teacher is that you have to know that it is a constantly changing field. The students she teaches now are different than students 10 years ago. The working conditions are always changing and the political climate is always on the forefront. What it comes down to is your desire to make a difference in the lives of kids. You have to believe that you have something relevant to offer students, and do whatever you can to reach them and ensure their success. Andrea explained that the skills and traits that one needs in order to be a successful teacher is flexibility, humility, patience, a love of learning and the understanding that the classroom does not revolve around you.
Andrea explained that teaching is a journey and her goal is to inspire and instill a sense of success in her students. One of Andrea's favourite quotes, "The mediocre teacher tells. The good teacher explains. The superior teacher demonstrates. The great teacher inspires." – William Arthur Ward