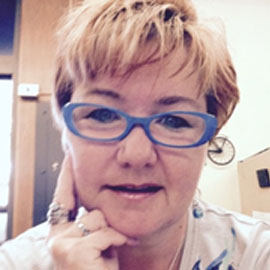 Information Services and Electronic Collections Library (Religion and Culture, BA)
Christine Brown, Waterloo Public Library
After working as a full-time legal secretary for 10 years, Christine decided it was time to change career paths and embark on something new. After taking a few part-time courses at Laurier before beginning her degree, Christine was not sure what subject area she was interested in, but ultimately pursued and graduated with an Honours Bachelors of Arts degree in Religion and Culture. This subject area provided Christine with a mixture of literature, history and philosophy, appealing to her interests in a variety of ways. As an eager reader and avid researcher, Christine knew that pursuing a career in library science would be a perfect fit as it met her skills and interests. Following her undergraduate degree at Laurier, Christine then pursued a master's degree in Library and Information Science (MLIS) from the University of Western Ontario and is now in her present position as an information services and electronic collections librarian with the Waterloo Public Library. 
Volunteering at a public library and the Multicultural Centre in Kitchener really assisted Christine in pursuing her library science career. Also, working as a paid library assistant during high school was beneficial in learning the basics of the library system (such as the Dewey Decimal system) and experience as a variety store clerk provided Christine with the basics of customer service. What is important to note is that libraries today, in Christine's point of view, offer a mix of both professional and non-professional positions. However, most professional positions require some form of postsecondary education, most preferring the MLIS. For success in this field it is of utmost importance to have an interest in learning and helping people. It is also essential to have the ability to problem solve and maintain a curious and inquiring mind as the library service industry is fast-paced, continually changing and there is always something new that can come up at any given moment.
Christine's workday and week can vary depending on the types of projects she is working on. She is currently part of a committee called 'One Book One Community,' which along with other public librarians and literary-minded people, encourages a shared love of reading. Each year the committee members select a single book and encourage people in the community to read the book, share and discuss it with others and participate in program-related events including author readings. Last year's book selection was Station Eleven by Emily St. John Mandel. In addition to arranging author readings and book club discussions, Christine organized a bus tour relating to subjects or themes in the book. The bus tour included a food foraging walking tour, a visit to the Stratford Festival, a walk through the Waterloo Region Emergency Response Training Centre and finally a discussion with staff from Adventure Guide about how to prepare for an apocalypse. How do all of these events relate to the book? Well, you will have to read it to find out! The event was a lot of fun but also time-consuming to plan and organize. Another committee that Christine is an active participant on is the Narrative of Tech Committee. This internal library committee designs and delivers technology training to library staff to ensure that their technology skills remain consistent with the ever-changing needs of library customers and the community at large. A portion of each workday is spent at a service desk working with customers who require assistance in locating books, movies, and information on a wide range of topics. As well, another important task that Christine oversees is providing one-on-one tech support and computer assistance for customers, either in person, over email or through a telephone call. For example, customers can request an appointment with Christine should they desire assistance to get started with downloading e-books to an e-reader or mobile device or setting up a Twitter account, using Skype, organizing digital photos, or using Google more effectively. Christine's job is a customer-service centred role; one where an outgoing and friendly personality is necessary, just like any service-industry position. Many people are hesitant when coming to the library to ask for assistance (and sometimes electronic and tech questions can be complicated and lengthy) so having an approachable and friendly attitude will only make the customer feel more welcomed and open to ask questions and inquire about new things.
The way in which people access information is constantly evolving and the role of libraries is changing to accommodate and embrace that development. Being flexible and having a solid background or comfort with technology will only increase chances for success in this career area. As well, being resourceful and taking the time to familiarize yourself with library resources and materials will only be beneficial. Having an MLIS degree isn't exclusively for those who want to work in a library. An MLIS degree provides a solid framework for people interested in careers relating to research, archives, digital media, training and development, community relations, early childhood education, teaching and more!