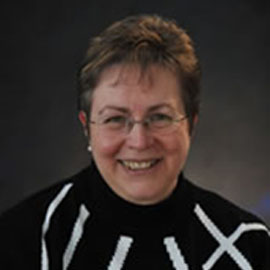 Manager, Learning Services (English, BA)
Maryann Kope, University of Guelph
Watch Maryann talk about her career in university learning support.
So you're interested in a career in education, but not sure you want to be a teacher? Then Maryann's career journey is one you will want to read.
Maryann Kope decided to study English at Laurier in 1976 as she both loved and excelled in the subject. Once she arrived at university, she also developed an interest in French and subsequently became a double major. In about third year, a career in teaching began to float across Maryann's radar. As Maryann reflected on her time as a student, she recounted that her main goal for university was not necessarily to 'pursue a career,' but "to learn the best that had been said and written."
Following graduation, Maryann was selected for an exchange program where she spent nine months in France working as a teacher's assistant in a high school – and so began her path toward a career in education. She recalls that in 1980 teaching jobs were difficult to secure; however, French was one of the few areas in which school boards were hiring. Therefore, when she returned from France she decided to go to Teacher's College and subsequently worked in public education boards and private schools for about five years, "teaching everything from grade 8 to adult education."
Today, Maryann holds the role of manager, Learning Services at the University of Guelph, which is part of the Learning and Curriculum Support Department in the Library. She indicates that her arrival to this position "was in a very round-about way." While Maryann was on a maternity leave from teaching, she began to reflect on whether or not she wanted to continue as a classroom teacher and came to the conclusion that she would like a change. Maryann began to explore other career paths that involved education. She had enjoyed her time at university, and so contemplated applying for administrative roles in university settings to become more acquainted with employment possibilities, with the hope of working her way up in the university system. During this time she found an advertisement in the local paper for a part-time study skills instructor at Laurier. Maryann had worked with ESL students on study skills during her tenure as a teacher, so felt she possessed the required skills and experience. The problem was that the advertisement called for someone with a master's degree. Maryann almost didn't apply to the job, but after speaking to a very helpful human resources representative, she was encouraged to apply anyway and secured the role. Maryann feels grateful for having secured this position with Laurier as it was the beginning of her new direction with the University of Guelph.
Maryann feels there is no such thing as a 'typical day' as her role is very project based. The main function of the Learning Services unit is to provide learning support to students so they can develop the academic and professional skills they need to succeed. Maryann and her team offer various open admission workshops and specialized programs (e.g. for student athletes or students on academic probation). They also work extensively with faculty who want to integrate academic skill development into their courses and programs. Maryann has also been involved with developing interactive online support services. Her days are filled with meetings, responding to emails, communicating with faculty regarding their course needs, negotiating programs with managers, deans, and other people in decision-making positions, securing funding to launch new programs, writing reports and proposals, coaching students and supervising staff – "you name it!"
Maryann feels that to be rewarded in any type of educational role you have to love and respect students. In addition, there is a constant evolution in technology that has greatly impacted learning. Therefore, you need to possess a natural curiosity to keep abreast of what is new regarding research in the field. You have to "have a critical eye and a healthy dose of intellectual skepticism about what the latest and greatest new thing is supposed to be, and whether or not that's really going to help students in the long run."
Maryann feels her greatest reward in this career was witnessing many students blossom under her supervision. As a manager, she misses the daily contact she had with students when she did more direct service delivery. A challenging and engaging aspect of her role is that she is always doing something new, and student learning is always evolving and changing. "We never get complacent and we never get bored!" Budgeting is a difficult challenge she faces as a manager and she points out that it can be frustrating when she knows students need a particular service, but there is not enough money to fund the resources to deliver it.

For students considering a career in university learning support, Maryann notes there is not one single educational background that is required. Most people who are working in Maryann's field tend to get there via two paths:
a Bachelor of Education and a background in high school teaching, along with a graduate degree in Education or,
through personal counselling education and experience.
"There is some overlap in the work that we do and the work that personal counsellors do with students." Helping students with motivation and perfectionism issues are two common examples. If you wish to plan a career in learning support, it is helpful to take educational psychology courses and consider a master's degree in either Education (for example the Master's Degree in Higher Education at OISE, University of Toronto, which is where Maryann completed her master's studies in 1989) or a Master's Degree in Educational Psychology. Maryann stresses graduate education for those pursuing work in a university setting. She noted that when she applied for that first non-teaching role as a study skills instructor at Laurier, it was understood that if hired, she would pursue a graduate degree.
Maryann recounts that she wishes she would have been more involved with volunteering as an undergraduate student. She noted that one way to get into the learning support field is by being involved as a student through roles such as peer helpers, mentors or tutors. These volunteer experiences can open many doors for students later on who are interested in educational roles that are not necessarily in a classroom. Maryann also suggests that if you are interested in education, you could also consider researching a career in human resources and getting involved in staff training. She notes that when contemplating her career change, human resources was also an area she explored.
A final word of wisdom for students interested in a 'non-classroom based educational career' is to join the new Learning Specialists Association of Canada to access networking and learning opportunities. If you have any questions for Maryann, she encourages you to email her at mkope@uoguelph.ca.