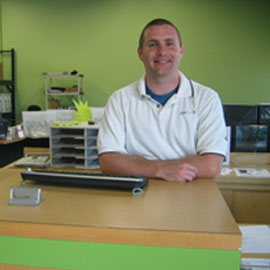 Entrepreneur, Vice-President and Co-Owner (Business Administration, BBA)
Will Hunter, WeSellIt Ltd.
Like many other students, Will Hunter embarked on some world travelling after graduation from the BBA program (2003) to broaden his horizons and get a taste of adventure. Also like many other students, Will returned from his journey faced with the exciting and daunting challenge of choosing employment and deciding how that employment might fit into his overall career path. The timing however, could not have been more perfect. Upon arriving back in Canada, Will learned through a family friend about an opportunity that would enable him to capitalize on his entrepreneurial spirit and the chance to build a business from the ground up. Will had a strong résumé prior to leaving Laurier through participation in the co-op program where he worked in sales and marketing capacities with Research In Motion, Lexmark and Procter and Gamble. Although he received several other job offers, he made the decision to partner with someone to start their own business.
Will is now the vice-president and co-owner of WeSellit Ltd.,a local Waterloo company that sources and sells a variety of fun, unique and interesting home and outdoor recreation products through eBay, their website and a warehouse outlet (www.wesellit.ca). As vice-president, Will's responsibilities and daily activities are vast. From a daily perspective, he monitors inventory to ensure it is effectively broadcasted online, negotiates with vendors, sources new products and deals with customer sales. He also collaborates with his partner to set goals and objectives for the business and staff, reviews monthly finances, manages warehouse operations and develops product and corporate marketing. Self-employment has certainly afforded Will the opportunity to experience a variety of projects and business roles and the freedom to try new things. Some of the greatest challenges include trying to fit everything in that needs to get done within the time available. As a result, Will has refined the art of prioritizing.
Will reported having a fairly clear idea prior to entering university that he wanted to be in business. His co-op participation helped him clarify a few things, such as the realization that he did not want to pursue a career in consumer packaged goods, and that he preferred a smaller business setting. While at Laurier, he participated as an Orientation Week Icebreaker, and worked for several years as a camp counsellor. These combined experiences solidified his desire to work in an energetic, team-oriented environment. Will also utilized SWAP to secure some international work experience, which regardless of what career path you go into, will always look attractive on a résumé and help to cultivate life and work related skills (www.swap.ca).
If you are contemplating self-employment, Will suggests capturing your goals on paper and looking at them at least once per week to maintain focus. Above all, it is important to maintain a positive outlook – as the risks associated with entrepreneurship can weigh heavily. For Will's particular business, there is a great debate as to whether the business model they began with (selling for others on eBay) can be profitable in the long run. Will stays on top of the trends and debates in his field by continually monitoring blogs and related websites. Hundreds of stores similar to WeSellit have closed since they opened as the first store in Canada. Four years later, WeSellit is in the top 1% of sellers on eBay, they have sold over 10,000 items and continually make the art and science of eBay and online selling both simple and accessible for their customers.