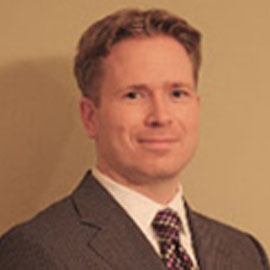 Investment Banker (Business Administration, BBA)
Trevor Gardner, RBC
The elusive career of an investment banker, often glamorized by Hollywood movies, the finance-based profession is commonly stereotyped as an industry full of Gordon Geckos who simply play the market. Not surprisingly, the truth is far removed from the Hollywood characterization. While investment banking can be fast-paced and exciting, real success stems from hard work, thoughtful analysis and an unwavering dedication to client service. Trevor Gardner, a 1998 Laurier graduate of the Honours BBA Co-op program, has provided some insight on how you can succeed in investment banking.
As in any profession, the key is simply to do what you love. Trevor takes the same approach. He always knew he wanted to go into the investment banking industry ever since he started at Laurier. The business courses and exposure to top-tier professors and other motivated students offered by the BBA program furthered Trevor's excitement in the finance industry. Impressed by the profession's combination of deep analytics and relationship building, Trevor pursued this career path; a path that was not a direct route to his end goal. Although he did not get one of the few coveted investment industry co-op jobs in his first co-op work term, Trevor gained valuable experience in the management accounting field before moving into the wealth management field in subsequent co-op terms. Through networking with industry contacts, persistence, paying attention to his grades and developing a well-rounded resumé, Trevor obtained a job in investment banking with RBC Capital Markets in Toronto directly following graduation. After nine years at the Toronto Office, Trevor took a position at RBC's Calgary office in 2007 and is currently a managing director in investment banking.
As a managing director with a focus on clients in the energy industry, Trevor's primary responsibilities are to develop professional relationships with his clients and subsequently provide financial and advisory services to their company. In this role, Trevor largely deals with the senior executives (CEOs and CFOs) of his clients' companies who use RBC's advice and financial products to further their business strategies throughout their organization. A 'typical day' for an investment banker is essentially non-existent. One's work is totally dependent on the particular client, their business environment and current capital markets conditions which, change day-to-day. At different times, Trevor can spend his time digging into financial statements to analyze a potential merger or acquisition transaction, working with his colleagues to propose financing terms or spending time with clients to build stronger relationships with key decision makers. While Trevor is based in Canada and is primarily responsible for relationships with Canadian companies, he stresses that his business is increasingly global in scope, and to be successful in investment banking, it is vital to be able to think globally in order to match the aspirations of the leading companies with which you are interacting.
Trevor's most enjoyable aspect of his job is the people side of the business. He enthusiastically describes how amazing it is to work with the business leaders of Canada's major companies and the satisfaction of helping these clients achieve their goals. The opportunity to have business meetings at Calgary Flames games, or on the golf course from time to time, is definitely another advantage. More recently, given RBC Capital Market's expansion into the U.S. and around the world, Trevor enjoys the 'global impact' of his role and the ability to work with colleagues on an international scale.
You now know what Trevor's job entails, but how do you reach your own ambitions in investment banking? Strong academic achievement is required to work in such a challenging and demanding role, but grades are not the only important quality. Trevor stresses that recruiters are looking for well-rounded applicants who – most importantly – have a passion for the industry. Without a love for finance and investment banking, students will not and cannot be a successful investment banker. Employers are also looking for certain personality traits in their applicants. Strong communication and interpersonal skills, diligence, dedication, persistence and the ability to work well with a team are essential to success in the industry. Once situated in your dream job, be prepared for the biggest challenge Trevor faces daily – the ability to manage your time while consistently dealing with conflicting priorities is an unavoidable obstacle when dealing with such high-priority clients.
In the end, Trevor acknowledges the demands of the job, difficult entry and unavoidable NHL games, but he stresses the pros far outweigh the cons. As long as you love your role and work hard, Trevor is confident that you will be a successful investment banker. As displayed, investment banking is an important part of a well-functioning economy, and the services provided by this profession can be vitally important to the success of major corporations in Canada and around the world. A large role indeed, but one Trevor states Laurier prepares its students well for. One last message from Trevor is that by choosing Laurier (and reading this Career Profile), you have accomplished the first step on your road to an investment banking career. "Laurier does an exceptional job preparing students for a career in investment banking."