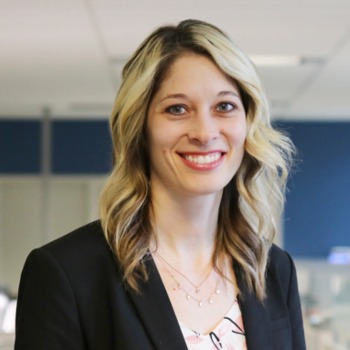 Vice President, Financial Planning and Analysis (Business Administration, BBA)
Melinda Beswetherick, Economical Insurance
By: Emma Scholtz, Conestoga College Career Development Practitioner Practicum Student 
Are you a Bachelor of Business Administration student interested in the Financial Planning and Analysis field? Do you feel that you have the skills and competencies in order to be successful in a Vice President role? If you work hard, network, apply yourself and focus on where your strengths and interests are, you too can achieve senior leadership career goals!
Melinda first learned of Laurier's Business Program through a close relative who quickly became her mentor. She was especially drawn to the business program as she felt like it could open a lot of doors, but like many undergraduate students, Melinda was still unsure what career direction she was going to pursue.
With the diverse streams and concentrations in business to select from, it took Melinda a while before realizing her passion was accounting. Melinda made it a personal goal to take a variety of different courses to understand how they fit into the bigger picture and would ask herself, "how do these courses fit with my interests and strengths?" It was not until Melinda's first co-op placement in accounting where she had the opportunity to work at Ernst & Young, where she determined that accounting was the right path for her.
After graduating from Wilfrid Laurier University in 2003, Melinda was hired on full-time at Ernst & Young and received her Chartered Accountant (CA) designation. With the role being focused primarily on auditing, she developed her technical accounting and reporting skills which translate nicely to financial reporting roles. Melinda then moved out of public accounting into a financial reporting capacity as the Divisional Controller at Virtek Vision International Inc. followed by ATS Automation serving in various Financial Planning roles (Manager of Financial Operations, Director of Financial Planning & Operations, Corporate Controller). Here is where she really found her passion for Financial Planning and Analysis (FP&A). Melinda currently serves as the Vice President of FP&A with Economical Insurance.
As VP, Melinda has many back-to-back meetings. Some meetings are with varying combinations of her 50 team members to support and discuss the vision and direction of the department while there are also numerous meetings with her business partners covering various topics such as key financial metrics and performance vs expectations, progress and financial governance of current organizational strategic initiatives, and the projected future financial performance of the company.  FP&A's goal is to partner with the business by providing a financial lens on all major decision making and ensuring current problems are being collaboratively evaluated and resolved. The focus is often on budgeting, planning and forecasting to help build a sound financial plan. For example, as an organization is deciding whether to undertake a new approach to pricing or commit to a large technology project, FP&A works with the business to understand the expected impact of these decisions on the financial performance of the company. Financial impact for the organization is a critical factor when prioritizing resources.
In order to be successful in FP&A, Melinda believes that you must have strong collaboration, leadership, and problem-solving skills. The collaborative and problem-solving nature is what Melinda enjoys the most as she loves working with multiple different departments to solve diverse business challenges. She notes that the more technical accounting roles may be a good fit for people who are introvertedly inclined. Having a strong technical base is also important to success in FP&A, but the role is very extroverted, collaborative and requires using your best judgement and the ability to deal with uncertainty.
In order to be successful in an FP&A role, Melinda highly recommends:
Having a Bachelor of Business Administration Degree and Chartered Professional Accountant (CPA) Designation.
Building technical knowledge to have a solid understanding of how the financials in a company work.
Getting a good breadth of experience and understanding of the various business disciplines early as it will help you focus as you move along in your career.
Attending the Career Fair (fall) and Job Fair (winter), which has great finance and accounting opportunities.
Networking! At one point, these professionals were in the same student position as you are, and many mature professionals understand how valuable those conversations were to their own professional development.
The future of FP&A is changing with regard to trends. While those in the profession will continue to be "number crunchers" and business partners, Melinda believes that through automation and artificial intelligence they will be able to better leverage and analyze data more efficiently in order to make decisions.
Melinda is also extremely passionate about mentoring women who want to get into a senior leadership position as she herself went through a lot of challenges and difficulties throughout her career history. She encourages women to support each other and strive for senior positions because you can do it! As research shows on Statistics Canada, in 2020 men made up 71.2% of senior management occupations and 64.1% of management occupations (Statistics Canada, 2021). Melinda is the perfect example of a woman who has beat those odds.
For Laurier undergraduate students reading this, Melinda encourages you to enjoy the present, live in the moment and trust the process.  If you are working hard, applying yourself and building relationships, the rest will come. Enjoy every phase of your career journey! 

Work Cited

Government of Canada, Statistics Canada. (2021, January 27). Proportion of women and men employed in management positions, annual. Retrieved February 25, 2021.