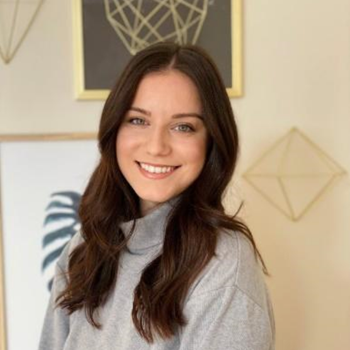 Health Analyst, Junior Epidemiologist (Health Sciences, BSc)
Elena Kocovska, Halton Region
By: Elisa Lukas, Laurier Career Development Centre  
Elena graduated from Laurier with a BSc in Health Sciences degree and continued her studies at the University of Toronto, completing a Master of Public Health (MPH) in Epidemiology. During Elena's early undergraduate years she thought about becoming a physician. However, through volunteering at Grand River Hospital, Laurier's Health Sciences Students' Association and a summer role as a research assistant, Elena began to realize that the quantitative research aspect of healthcare was more appealing to her than providing direct patient care. During her studies, Elena spoke with professors about specializations and her epidemiology course professor was able to help her see how the study of diseases in human populations might fit well with her interests.  
Her first practicum in the MPH Epidemiology program was with the Durham Region Health Department conducting everyday regional health reporting like conducting analyses to complete several reports on communicable diseases and updating the annual 'disease at a glance' report outlining trends over the years in infectious diseases in Durham Region. Her second placement was with Public Health Ontario (PHO) performing practical research and contributing to manuscripts on topics ranging from substance use research, including opioids, alcohol and cannabis use. After completing her master's degree, Elena became an Epidemiologist at Public Health Ontario (no additional certification or special licencing required). Elena recently began a new position with Halton Region Health as a Health Analyst. Her main responsibility here is to manage the regional COVID-19 reporting dashboard during the public health crisis. She uses a variety of statistical software applications to collect, organize and clean surveillance data and then interprets and summarizes the data in meaningful ways for diverse stakeholders. For this position, the employer was looking for someone with a master's in epidemiology or biostatistics, a strong background in communicable disease surveillance and at least three years of relevant work experience. 
A typical day for an epidemiologist may include: 
participating on multiple teams working on various research projects with both independent and group tasks

 

developing detailed project plans with project Principal Investigators and Scientists

 

conducting extensive literature reviews to explore key variables in helping to answer health- related questions

 

identifying the best data sources and data to answer a specific research question and creating an analysis plan (i.e., descriptive, inferential statistics)

 

cleaning data and performing complex statistical analyses

 

report on health issues and patterns to develop community health status reports, surveillance reports, interactive dashboards, etc. 

 

gathering insights from external stakeholders

 
An example of a public health project Elena worked on entailed examining the lived experiences of substance use which she described as a very eye-opening project. She also contributed to the development and analysis of reports describing trends in opioid use in Ontario that were available for public use on the Public Health Ontario website. 
Elena noted that challenges at PHO related to cuts to funding and lags in report publication. While the pandemic may have increased PHO funding, it also meant that the focus of projects turned toward understanding COVID-19 and creating timely related publications versus completing non-pandemic related publications. 
For a career in epidemiology, an individual will need to complete a master's degree in epidemiology, or public health (with emphasis in epidemiology). A statistical background is very important. When working in the public health field, an epidemiologist can expect to work in an office, conduct research, write academically and use epidemiological methods to solve problems. They need to be adaptable and open to changes. Considering where to work includes whether you wish to conduct academic research to contribute to manuscripts or conduct applied research to monitor health trends and produce reports. Lastly, an epidemiologist should have a strong interest in public health interventions and social determinants of health. Similar roles include Data Analysts and Biostatisticians as they also design statistical studies, compile information and perform analysis related to health topics. 
Elena believes there will be a surplus of job opportunities for epidemiologists in the future, appearing in waves. Once the COVID-19 public health emergency subsides, personnel will be needed to conduct research on emerging data about health conditions related to COVID-19 as well as catch up on the backlog of items that have been on hold since the pandemic hit. The probability of another pandemic in the future is real, therefore building capacity to manage future surveillance initiatives will require planning ahead and hiring additional workers.  
For students interested in learning more and networking, Elena recommends a student membership with the Association of Public Health Epidemiologists of Ontario (APHEO). This is a reliable source for current events, conferences, current indicators, publications and postgraduate jobs. For summer jobs, Elena recommends researching organizational websites, examining published research projects and identifying those that interest you. Try to learn about the project and send an email to the project lead describing your interest and let them know you are open to any summer opportunities that may exist. 
Elena offered some excellent career tips for undergraduate students: 
You do not have to have everything figured out during your undergraduate program; it takes time.

 

Understand that if you don't ask questions, you won't know what you don't know. Talk with your professors and the Career Centre to help you become informed.

 

Realize that your classmates are just as interested in finding people to study with as you are. Take the first step, reach out. 

 

Don't let worries about a thesis hold you back! There will be 20 of you all going down the same path, all doing in-depth research with the guidance of a supervisor. You will all be at the same stage! 

 

Get involved in clubs early in your university journey, join the Health Sciences Students' Association (HSSA)

 

Perseverance, passion and grit will pay off, and if you are in a senior year now, speak up and ask your professors if there are opportunities for you to volunteer or work in research roles. 

 
Every day as an epidemiologist, Elena feels excited about the day ahead. The job is challenging and satisfying. The research she conducts is purposeful - it is not repetitive nor boring as she had once thought back in stats class at Laurier! Each project is different and unique, and a diverse mix of professionals collaborate to influence the stories. If you are interested in Health Sciences and looking for a career with continuous learning and opportunity to make a difference, epidemiology may be a great fit for you as well.