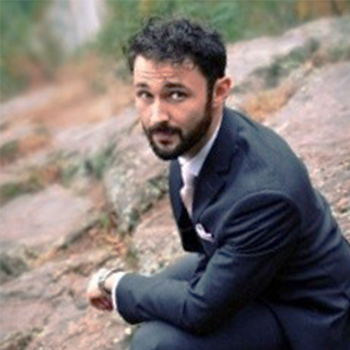 Project Manager (Archeology, BA)
Joshua Cadman, Kingston Health Sciences Centre
By: Roger Segal, Career Centre Peer
Joshua Cadman graduated from Wilfrid Laurier University in 2012 with a BA in Archeology. One might wonder how someone with an archeology degree became a Project Manager at one of Canada's top research hospitals. While deciding on what area of graduate education he wanted to pursue, Joshua relocated to Alberta to work in the oil fields in order to pay off his student loans. Shortly after, he was able to attain a research position at a government relations firm in Markham where he supported healthcare organizations in working with the Ministry of Health and Long-Term Care to lobby for policy reform. This role spiked his interest in administrative work and led Joshua to obtain his Masters in Public Administration at Queen's University. Upon graduating, he became a project co-ordinator for the South East Local Health Integration Network and was later recruited by Kingston Health Sciences Centre.

Throughout his career thus far, Joshua has worked in health systems planning – for instance, he led the establishment of nurse led clinics into local communities that had limited access to doctors, as well as project development and implementation for hospitals across the region. One example of a health project that Joshua has worked on is leading the implementation of Two-Step Verification to help keep hospitals and their staff protected while online (think logging into your bank, you give a password and may also receive a text with a unique set of numbers you need to log in). Joshua is currently working with 12 different hospitals to help them select and install a new Hospital Information System, which will create a single patient health record for the region, allowing doctors to better understand what care their patients received while at other hospitals and giving patients more access to their own health record.

As a project manager, there is no such thing as a typical day. Just as with all jobs, there are busier periods (such as organizing project launches or "go-lives") and slower ones (such as project testing). Typically, his work centres around three main stages: initiating the project (involves assessing what the project is and why they are doing it), developing and executing the plan (identify the resources, and risks, while looking for the most efficient courses of action), and finally closing the project (evaluation). The daily task variation and the opportunity to work with a multitude of different individuals is what Joshua likes most about his line of work. While there are many aspects to his work that he enjoys, Joshua mentioned that project managers often struggle with effective communications (amongst staff and to the end user) and the constant change in the role of a project manager can be challenging.

When Joshua first began in the health project management field, candidates only required a bachelor's degree and project management experience. Nowadays, candidates may be required to pursue graduate studies or possess a Project Management Professional (PMP) Certification.

To be a successful project manager, Joshua mentioned that it is important to be highly organized, enjoy working with people and be receptive to change as the whole job is subject to it. Overall, you have to be someone who enjoys helping and learning about people, as well as possess an inquisitive mind. Joshua stated that the best route to his current position would be to obtain a masters degree, as his graduate degree made a big difference and enabled him to make connections throughout his studies. A lot of the training, however, can be obtained directly on the job.

The skills Joshua has obtained as a health project manager are very transferable to many industries. Construction, Oil, IT and Infrastructure are examples of industries that have also peaked his interest and utilize the same skill-set. There are also a variety of similar and related occupations that require less training, such as a business analyst or project co-ordinator.

Historically Joshua's profession was focused on working with large vendors or consulting companies who would offer project management services to public and private institutions. However, more recently, large, complex organizations (such as hospitals), increasingly see the value in having dedicated personnel to run and plan various projects. Resources that have now become more prevalent and useful include LinkedIn, publications and accreditations from the Project Management Institute, and media content from the Ministry of Health. He also mentioned that the University of Toronto has a behavioral economics unit that provides great publications related loosely to project management and on why people make certain decisions.

Joshua encourages students to be open and adventurous during their career exploration and to try new things and meet different people, which is what he firmly believes made him successful. He is also a strong proponent of giving back to the community as evidenced by his volunteering with the Big Brothers and Big Sisters program, assisting with environmental initiatives and serving on the board for a local conservation group. Volunteering helps build connections and so recommends students volunteer to further build on these connections and contribute to a memorable university experience. Joshua also stated that the bulk of project management work is in the larger cities, such as Toronto, so one must be willing to move to optimize employment.

Joshua's career is a great example of how there is not one clear path to success and that we are not defined or limited by our degrees.