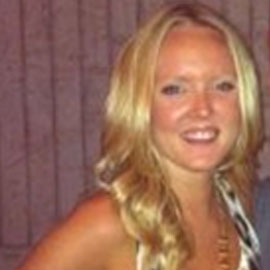 Human Resources Coordinator (English, BA)
Stephanie Fasken, Steelcraft Inc.
Stephanie Fasken graduated from Laurier with a Bachelor of Arts in English literature in 2010. Following graduation, Stephanie began a career in personal banking and worked as a financial services representative for two years with TD Bank. During these two years, Stephanie gradually realized that sales was not the right fit for her, which led her to meet with her human resources counsellor and further discuss her career path. After the discussion, Stephanie chose to go back to school and took two courses to explore her budding interest in HR. Eventually, she decided to pursue the full-time HR Management Postgraduate Certificate program at Conestoga College, which paved her current career path.
Stephanie says, although no specific qualifications or education are required to get into entry level roles within the HR field, it would be difficult to advance in the field without postsecondary education in HR. Within this field, Certified Human Resources Professionals (CHRP) is the certification that most people are working towards. Being a Human Resources Professional Association (HRPA) member, Stephanie has been utilizing a variety of the association resources to further educate and develop herself in order to keep current with trends in her field.
With her role as a human resources coordinator at Steelcraft, Stephanie has diverse responsibilities in dealing with employee benefits, pension administration, recruitment, orientation, Human Resources Information System (HRIS) maintenance, performance management and WSIB Claims management. According to Stephanie, the most rewarding part of her job is the daily interaction with employees to help them solve issues or problems they may have. Furthermore, Stephanie indicates that HR as an integral part of the organization as it helps to drive organizational changes through employee recruitment, engagement and development.
Regarding a typical day for Stephanie, it really depends on the working locations since she is travelling between five different plants (Cambridge, Woodstock, Waterloo, and two in Stratford) throughout the week. The commute between various working locations is one of the challenges she has encountered in her role. Other than the commute, she also finds it difficult to always have the immediate answers for employees. It is very different from her role in the bank where products were more concrete and tangible, thus answers more straightforward; whereas HR issues are more nebulous and often ambiguous. Therefore, she always conducts research to find out the right answers for the employees, which is a process she enjoys.
As for the future trends in HR, Stephanie states that coaching is a big development and technology also has a big influence on HR practices, especially with a lot of employee information being stored on 'clouds' or databases, which raises concerns for information security. Stephanie believes that HR is becoming an increasingly important part of an organization's strategy as executives are starting to recognize the importance of HR's input. This will help to ensure that the company's resources (specifically, their people) are working at their fullest potential to actualize the company's goals.
With regards to her best decisions in her professional life, Stephanie says it is was her decision to go back to full-time study and getting involved as a volunteer in the HRPA that enabled her to break into the HR field.
For those who are interested in HR, Stephanie provides the following suggestions:
Get involved with the Human Resources Professionals Association (HRPA) – Stephanie strongly recommends students to attend HRPA events and webinars to receive the latest HR information, and capitalize on all the networking opportunities by joining mentorship programs.
Join any school associations related to HR or business and volunteer with them to gain more experience. Where possible take on executive positions where you can be responsible for managing a group of people.
Stay up to date on HR and business news by subscribing to newsletters such as First Reference Talks or other employment law updates.
Stephanie mentions that HR can be difficult because you are a resource for both the company and the employee and it can be challenging to balance both interests. Therefore, if you want to work in HR you need to possess qualities that enable you to be comfortable with walking this diplomatic line, as well as have excellent time-management and organizational skills – as every day brings unexpected challenges!