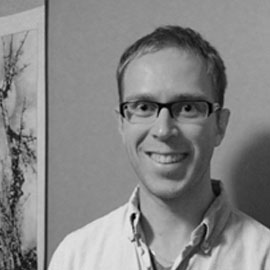 Casualty Litigation Claims Adjuster (Kinesiology, BA)
Mike Scott, Economical Insurance
Following graduating from the Kinesiology program degree at Laurier, Mike Scott (2005) began working with brain and spinal cord injury clients in clinical, workplace, home- and gym-based environments. Mike assisted with delivering multi-disciplinary therapies and implementing various aspects of rehabilitation, including performing functional ability assessments for clients making insurance claims. Mike recognized the work he was doing was funded through insurance and began to notice the integral role that an insurance adjuster played in an individual's recovery. Mike saw the insurance side of the rehabilitation field as an excellent opportunity to exercise his skills in diplomacy, negotiation and time management, and soon after entered the field as an accident benefits adjuster. After working up to a more senior level role in accident benefits, Mike later moved into bodily injury where he currently serves as a senior casualty litigation claims adjuster with Economical Insurance.
In a nutshell, Mike's role involves analyzing and directing actions on liability claims which have either reached, or are expected to reach the litigation process. This includes gathering and analyzing information and providing direction to other adjusters in the field as well as engineers, lawyers and other stakeholders. Most of Mike's day is spent in meetings with colleagues from other departments, superiors and technical advisors, reading and responding to emails/phone calls, reading reports, analyzing information and documenting files. Approximately 10% of the time he is off-site attending various forms of meetings including settlement negotiations, mediations, arbitrations, pre-trials and trials consisting of lawyers, other adjusters, mediators, judges and clients. Mike also attends various training and vendor events such as adjuster association meetings, which include presentations on relevant topics as well as networking opportunities.
Mike appreciates the great deal of variety his role provides and points out that "despite getting into a rhythm at different times, files are about individual situations, which are always unique." He also enjoys the opportunity to interact with diverse people. He finds it fascinating to observe how unique personalities approach situations differently and the affect that can have on the outcome of an insurance claim. Mike also notes that he likes the fact that his role in insurance demands ongoing learning and he has opportunities to attend a variety of training sessions where he is challenged and prepared for duties and responsibilities beyond his current role.
Like all careers, working in insurance claims can come with challenges. "The nature of claims is dealing with the aftermath of a situation that no one wanted to happen. As such, often there are emotions from the different parties that require empathy and to be handled with care." It is for this reason that this work is suited well to individuals who are diplomatic and interpersonally savvy. It is also necessary to possess strong analytical skills and be naturally inquisitive. Being able to apply these skills to emotionally sensitive client situations is paramount. A great reward working in claims is that it provides a great opportunity to help people during stressful times.
To pursue a career in insurance claims, a university degree with transferrable skills in investigation is helpful. Mike indicates that the insurance industry highly values a kinesiology degree in particular as it is viewed as excellent preparation for a claims adjuster. Many claims involve medical documentation, with which Kinesiologists are quite familiar, as well as the statistical, logical and analytical aspect involved in studying a science. Mike also did math courses (including game theory), which showed interest in risk analysis, an obviously large aspect of the insurance industry.
Mike points out that there is a strong industry-wide focus on the Insurance Institute of Canada (IIC), in particular the Chartered Insurance Professional (CIP) designation. "While the designation would not likely be required for an entry-level position, once gaining a position I would recommend proceeding with the industry related designation as it shows the candidate is interested in continuing education and bettering themselves with regards to a career in property and casualty insurance. To an entry level applicant, I would recommend borrowing a couple CIP textbooks to review and understand a few key terms as the cost of the courses is likely intimidating or prohibitive. Once employed by an insurer, there are often tuition reimbursement programs in place for such courses."
To acquire insurance related experience as a student, consider applying to an insurance company for summer work as there are many summer student employment opportunities. In addition, you can investigate volunteering through the IIC, and talk to as many people working in insurance as you can. If interested in the healthcare side of insurance, there are many opportunities to volunteer in health care settings to obtain medical knowledge.
As insurance is an expansive and necessary industry, careers with insurance are endless and there are always opportunities to look at other roles and companies. For students beginning to familiarize themselves with careers in insurance, be sure to visit the Insurance Institute Career Connections page. You can find other useful information from the Ontario Insurance Adjusters Association, the CICMA (for Insurance Claims Managers), Canadian Underwriter magazine and Thompson's Insurance News.