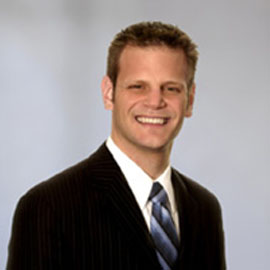 Director of Policy and Practice (Business Administration, BBA)
Dave Mollica, The Advocates' Society
Dave Mollica graduated from Laurier in 2002 with a Bachelor of Business Administration. He then obtained a Bachelor of Laws (LLB) from Dalhousie University. Law school had not been an initial consideration for Dave, but during his time as senior coordinator, Fundraising with the Canadian Cancer Society, he realized that what he enjoyed most was the critical thinking and strategic planning aspects of the job, skills he knew he could further develop in law school.
After completing his law degree, Dave underwent his articling with Osler, Hoskin & Harcourt LLP, a corporate law firm in Toronto. He then worked as a law clerk to Justice Abella of the Supreme Court of Canada, gaining valuable experience researching and writing on a wide range of legal issues. After spending a year at the Supreme Court, Dave returned to Osler and accepted a position as a litigation associate. In this role, Dave had the opportunity to learn from some of the best lawyers in Canada about how a client moves from the start of a law suit through to a trial. Dave enjoyed the interaction with clients and his colleagues and the challenges of applying the law to each client's unique set of circumstances. The role was a very demanding one, with a high volume of complex work and high client expectations in a friendly, but stressful work environment. The role often required working well into the evenings and on weekends and holidays. While he enjoyed the challenge and was grateful for the exciting opportunities Osler provided, after practicing as a litigation associate for nearly three years, Dave decided to seek out a new professional opportunity that would provide for a different professional experience with a better balance between his career and personal life. At the time, Dave was a member of The Advocates' Society (TAS), a not-for-profit organization which advocates on behalf of the legal profession and provides professional development programs and mentoring opportunities to litigators. When Dave saw the posting for his current job in a professional publication, he was intrigued at how this new role would combine the event planning skills he had been honing since his days at Laurier and, as a member of TAS, Dave believed in the work it does for lawyers and society at large. After a successful application and interview process, Dave found himself on his way to a new professional challenge.
Currently, Dave is the Director of Policy and Practice at TAS. In this role, Dave oversees the organization of networking opportunities, panel discussions and guest speakers, and online initiatives for litigators who practice in a wide variety of areas, from family to criminal to regulatory law. In addition, Dave works with members of TAS to make submissions to courts, legislative bodies, government departments and regulatory organizations on a broad range of different issues that affect the legal profession and access to justice. Within this role, Dave is able to combine the strategic planning aspects from his time as an event coordinator with the knowledge and experience gained from his legal education. As a result of the multiple tasks and projects he undertakes, his day-to-day responsibilities are never the same and can include anything from planning relevant networking sessions and guest speakers, to conducting research and checking facts on current legal issues on which TAS will be taking a position. In his time with TAS, Dave has worked on court cases and legal reform projects involving improved access to the court system, the protection of information shared between lawyers and their clients, and practical issues affecting courtroom lawyers.
Dave has shared some helpful tips on how to decide whether or not law school is the right path for you. He recommends talking to individuals who have gone through the process, and getting as many different opinions as possible. Although it never hurts to further your education, the environment and methods of teaching in law school are unique, so it is helpful to know what you are getting into. He also stresses the point that while achieving high grades in law school will open doors for you, it won't push you through them. There are many people who do well in law school; the trick is to be able to distinguish yourself from everyone else through your extracurricular, volunteer and work experiences. Practicing as a lawyer involves more than just bringing up knowledge gained through those three years at school. The skills you learn outside of the classroom (diplomacy, for example) are just as crucial when striving to become a successful lawyer.
If you are considering a career in the field of law, Dave states a few key skills and attitudes helpful for achieving a successful role you will be satisfied with. First, it is crucial to enjoy tasks that involve problem-solving. In law school and many legal careers, many tasks will require you to solve a problem or improve a situation by conducting extensive research to arrive at an effective solution. Secondly, well-developed writing skills are fundamental to success. This refers not only to the ability to structure a contract, letter or brief in the proper format, but also having the communication skills that allow you to work effectively with various players in the legal profession. Finally, while successful individuals in the legal field tend to be competitive and driven toward professional success, a crucial quality of the best lawyers is the ability to not take situations personally – and not to take yourself too seriously. For example, there will be instances where you will lose a case in court – it is important to learn from those situations, but not to dwell on them. A career in the field of law has a suitable level of intensity for individuals who enjoy learning, are driven and thrive off of a challenge.