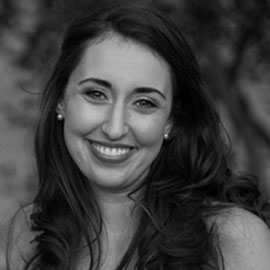 Brand Manager, Beauty (Business Administration, BBA)
Laura Saveriano, Revlon Canada
Laura Saveriano graduated in 2010 with an Honours Bachelor of Business Administration degree, specializing in marketing and brand communication. She began her journey in brand marketing through Laurier's co-operative education program where she worked for companies such as Kao Brands and Hershey. Her first work term was an eight-month position at Kao Brands on John Frieda Hair Care, which she believes made a significant impact on her career. Given the longer duration of the work placement, it enabled her to take on greater responsibilities and experience a longer-term view of the business and product lifecycle. After that work term, she had significant experience truly applicable in the real world, and had built important connections in the health and beauty industry. This experience ultimately led her to joining Revlon Canada as an assistant brand manager upon graduation where she worked in this capacity on various brands for about two years before becoming an associate brand manager in 2012, and progressing to her current role today. Laura believes the experience she gained through her co-op terms were a key influencer in landing her career.
Through hard work and determination, Laura now works as a brand manager at Revlon Canada's head office in Mississauga, Ontario. Her team leads projects including everything from new product launch plans to media, consumer promotions and activations. In a nutshell, they develop brand strategies built on category and consumer insights, and build a plan to successfully grow their brands. She and her team also work closely with many cross-functional teams and external partners of Revlon. Laura loves how there is a great balance of creativity and analytics in her career and appreciates that the industry is fast-paced, dynamic and ever changing. Laura feels a sense of accomplishment seeing the products that her team has put their dedicated time and effort into, successfully come to life in the marketplace. In brand marketing, no two days are alike because of the constant changes in market trends, and that is exactly what she likes best. The variety of tasks and ever-changing environment is an exciting and rewarding experience.
Laura recommends setting both personal and professional goals regularly to help accomplish what is most important in your life. It is also important to work on brands and products that you are passionate about, which is why Laura naturally gravitated towards the beauty industry. She has always had a passion for beauty and cosmetics and with an educational background in marketing and brand communication, the career choice was a perfect fit. She mentions, "I love the confidence I feel from a bold lip colour or bright manicure, and I love that I can bring that same feeling to women every day." She also enjoys working on the Revlon brand for its global recognition and impact on the beauty industry.
Individuals interested in the field of marketing should possess good planning, collaboration and communication skills. Laura recommends getting involved in any type of work or volunteer opportunities to help build these skills. She mentions, "Laurier provides so many wonderful opportunities to get involved – take advantage of those opportunities." Participating in volunteer or campus programs and associations targeted towards marketing will help you learn the profession, build important skills and aid you in building connections.
Any type of work experience, whether that is through internships or co-op programs, to help you test the field and gain valuable experience will help you in finding the right career path in marketing. Laura recommends making the most of the time you have in those temporary roles and taking time to understand the business and your role within it. Understand how the marketing department works cross-functionally and externally, and the key resources you have at your disposal. Do not hesitate to share your ideas and contribute in meetings, "a temporary role does not mean temporary commitment." She also recommends taking on longer-term projects in these positions to give you valuable insights into the day-to-day responsibilities you may partake in, should you move into a similar role in the future.
Marketing is an exciting and rewarding career and finding a company that shares your interests and passion will allow you to succeed in whatever you do. It is important to research your career of interest, but it is just as important to test the waters by initiating first-hand experience. Marketing is far-reaching, and full of opportunities, so do not be afraid to explore your possibilities!