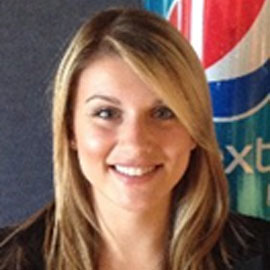 District Sales Leader (Psychology, BA)
Codi Costello, PepsiCo Foods Canada
Heads up psychology graduates! Your program perfectly aligns with the business world, and BA psychology graduate (2012) Codi Costello has a career story that is a perfect testament to this fact. Many psychology graduates view employer recruitment sessions with private sector companies as events for business students only. It's a good thing Codi didn't limit herself with this thinking. During Codi's fourth year she attended a PepsiCo Canada information session at the Career Development Centre where she was given the opportunity to network with current employees. Following this experience, Codi knew PepsiCo was not an opportunity she wanted to pass up. Her networking at this session contributed to her landing a position in PepsiCo Canada's New Graduate Program, which is a one year employment program that provides new graduates with opportunities to learn from senior leaders and hear about their career paths. Codi cited that a main value of the program was having access to various mentors and fellow employees who were always there to provide guidance and support her aspirations.
Although Codi toyed with the idea of pursuing a career in 'helping' (traditional psychology careers), she still always had a passion for sales that began with early customer service experiences in retail, which taught her valuable lessons in customer-focused selling. She also built her resumé through various volunteer roles on campus with the Orientation Week committee, campus clubs and faculty associations, WLUSU's professional development and training committee and programs offered through the Student Leadership Centre. These combined experiences taught her meaningful lessons in leadership, which in turn taught her effective communication, organization, and time management skills that are transferable to her current role and career. Codi also participated in various intramural sports which provided a great competitive student experience. Participation in sports is a wonderful way to gain an understanding of how to achieve individual goals, but simultaneously be a team player. Attending to this balance is highly relatable to sales because you are a member of a team aiming to win as one unit, but you are also an individual contributor who needs to achieve more narrow and specific personal goals. Learning how to be a healthy competitor with your teammates and also support each other every day is key to success in a sales career.
Codi was hired as a food service sales representative where she worked for just over a year before being promoted to her current role as a district sales leader for downtown Toronto small-format PepsiCo Foods. A typical week for Codi includes three to four days on the road in the market and one to two days in the office doing administrative work. When Codi is on the road she is meeting with customers (planned or unplanned visits) or doing route rides with her sales representatives. Customer meetings involve discussing store specific business results (sales growth versus last year), brand results, opportunities for growth, upcoming executional priorities, and service satisfaction. During office time some administrative tasks Codi attends to include payroll, meetings with co-workers and sales representatives and doing strategic planning to achieve targets and review results.
Codi notes that managing territory sales for a company is a fast-paced, results-driven job. She enjoys working with her team to positively impact the business and help customers achieve their business/sales goals. Some challenges Codi faces in her sales position are aligning customer and organizational goals to ensure everyone is mutually benefiting from the business partnership. An example of this might be working with a customer that is challenged for floor space in their store, but wants to grow their overall store sales and margin. In this case, Codi would consult with her customers by advising them on the products that will provide the highest margin and solid sales growth and where in the store they would sell the best. Once she is able to align those goals, the relationship thrives on winning together as a team. Codi notes that it is also important to have a positive outlook to thrive in a sales career, as you will face objections often and need the right attitude to still achieve your objectives without getting discouraged. Sales roles also come with the need to be very adaptable and open to change to ensure you're finding the best business solutions possible. For example, as a sales manager, Codi has to alter her coaching and leading style based on the diverse employees that report to her. You will also work with a variety of customer types that will require you to execute different tactics to be able to close the sale.
If you are considering a career in sales, it would be helpful to dive deep into work or volunteer involvements that will enable you to develop your leadership capabilities, communication, time management and organizational skills. The many volunteer experiences Codi initiated during her student years facilitated her job search immensely. Codi also suggests having SMART goals – understand what your short and long term career goals are and ensure they are specific, measurable, attainable, and realistic and to establish timelines to achieve each goal.
Codi noted that technology has certainly impacted the sales role in that consumers are changing how they shop for products. "We are seeing more delivery services and online purchases than prior years and we will continue to develop our sales and marketing strategies to ensure shoppers and consumers are able to easily purchase our products at all times."
So how is a psychology degree related to a career in sales? In every which way! "With a psychology background you are well versed in the mental functions of individuals and social behaviours. You can apply this general understanding to a career in sales by developing relationships with customers and those that you work with to achieve different goals with people who have diverse perspectives."
Many see the sales function as 'door-to-door' campaigns or envision the stigmatized car salesman, but sales jobs are actually a great entry point into an organization to learn the foundation of the business. As a salesperson, you are able to develop an understanding of the operational side of the business – how we develop our products and deliver them to our customers. Sales jobs also expose you to the marketing side of things – how companies advertise, bring programs/products to life and develop brand identities. "Sales opens up many doors for you to learn the necessary transferable skills needed to thrive in a corporate world!"