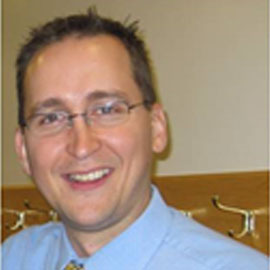 Product Marketing Manager (Biology and Chemistry, BSc)
Chris Horvath, Centocor Ortho Biotech Inc. (a Johnson & Johnson Company)
As a 2000 Biology and Chemistry Laurier grad, Chris completed multiple teaching assistantships followed by an MSc degree at the University of Guelph, before landing a role as an analytical chemist with Novartis Institutes for Biomedical Research in Cambridge, Massachusetts. Within this industrial laboratory setting, Chris specifically conducted research on various cardiovascular and infectious diseases. After three years working in a laboratory, Chris became interested in the commercial side of the pharmaceutical industry and the strategies and processes by which a drug therapy is brought to the market. More specifically, Chris is eager to leverage his science background to help align the objectives and incentives of scientists and business professionals within the industry.
To make this career transition, Chris completed an MBA at Rutgers Business School which involved a 12-week internship thus leading to his current role as a product marketing manager with Centocor Ortho Biotech Inc. Within this role, Chris is responsible for the tactical execution of the brand marketing strategy for Remicade-GI, a drug used to treat Crohn's disease. On a day-to-day basis, Chris creates and delivers marketing messages and educational/promotional tools for the field sales force, who ultimately deliver the product to customers and health care practitioners (e.g. doctors, nurses, etc.). Chris is also responsible for developing relationships with what is known as KOL's, or Key Opinion Leaders, who are known experts in a specific disease to better understand the therapeutic needs of physicians. This job challenges Chris to consistently stay on top of market trends and to constantly evolve with market needs in order to provide value for customers and patients who use the therapeutic product. Given increasing regulations within the pharma industry, this can affect how sales and marketing practices are delivered in order to comply with regulations. Chris noted however, that while this is a challenge, it also affords an opportunity to apply innovative thinking and problem-solving.
Chris identified being an extrovert as integral for success and suitability to the marketing profession. "But more importantly, no matter the education/technical background, the individual has to be passionate to his/her work. This is especially true as marketing is a very dynamic, multi-task oriented job that requires hard work, innovative thought and execution, and relationship building and nurturing skills. For me, this part is easy as I work on projects that can improve patients' lives. When you impact another person's life in a positive way as the pharma industry does, the passion comes naturally".
For those who are leaning toward a pharmaceutical laboratory career, Chris found that Ontario offered limited research internships and employment positions and would recommend science students remain open to considering the U.S. in their job search. American companies often have formalized means of recruiting students for entry-level positions and internships, thus helping with career direction and long-term decision making. Chris also added that students should avoid "pigeon-holing" themselves into a specific area of science since contemporary industrial research companies look for interdisciplinary skills and knowledge of both biology and chemistry concepts and practice. Working in the lab side of the pharmaceutical industry, there are limitations in not having a PhD. Ultimately, if you aspire to a supervisory role in research, a PhD is important.
Whether the business or science side of the pharmaceutical industry is of interest to you, this field offers a wealth of rewarding, and leading-edge career opportunities that can help make a difference in human lives.