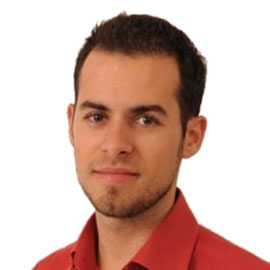 Sales and Marketing Coordinator (Business Administration, BBA)
David Silva
David Silva graduated from Laurier in June 2010 with a Bachelor of Business Administration degree concentrating in brand communication. The decision to move into sales and marketing evolved over time as David originally thought he wanted to pursue a degree in computer science because of his love for technology. However, he decided against it feeling that most computer science professions are not as people-oriented as he would like in a career. He had been accepted for computer science at the University of Waterloo but ultimately decided that business at Laurier was a better fit and could provide him with the combination of day-to-day contact with people as well as technological challenges. David was also attracted to business because of the diverse job opportunities available and he found marketing in particular to be attractive as it is a profession that requires individuals to be creative and personable. "Creativity is king in sales and marketing so I had a natural tendency towards it." David was also practical when making his decision to go into sales and marketing as the labour market supported numerous opportunities in this field across a variety of industries and sectors. Job opportunities, in combination with having a knack for business concepts, made his decision to go into sales and marketing an easy one.
Although David is in a successful business career, he still maintains great work-life balance. He works the standard nine to five, and is not expected to work weekends or evenings. Only when approaching a big deadline might extra hours incur. David's typical day on the job includes overseeing website management and monitoring inbound marketing activities. Inbound marketing activities include search engine optimization, creating landing pages (website pages that visitors land on with compelling offers) and updating social media accounts such as blogs and whitepaper creation (which is a term that refers to documents that are designed to educate sales prospects on topics related to your business thereby facilitating sales). They are particularly common in the software and business-to-business space. David also assists with creating and editing videos for use on the corporate website including testimonials, tutorials and promotional content. From the sales side, David spearheads many connections to prospective clients throughout North America which involves identifying potential new customers. Although some cold calling is required, most calls are made to "warm leads" that have come in off their website and are already interested in their product. This is known as "inbound marketing" and is extremely important as cold calling continues to become less popular.
Being a sales and marketing coordinator does not come without its challenges. Coming up with exciting campaigns in an attempt to sell seemingly mundane products (such as B2B software) can be a challenge, even for the very creative. Another major challenge in sales and marketing is hearing the word "no". To counteract these challenges, patience and consistent determination are required as sales cycles can be very long and it takes time to see your original work come to fruition. However, pushing through those long sales cycles allows for some great rewards. David states, "The greatest rewards are having a direct impact on the bottom line of the company." Another great part of the job is having the opportunity to meet a variety of individuals throughout North America. Therefore, to be successful in a career in sales one must be interpersonally savvy, creative and possess a great deal of tenacity.
David provides several great tips for those who are interested in pursuing a career in sales and marketing. One of the first and foremost skills one requires is technical skills, particularly in web and graphic design. Smaller companies often expect their marketing employee to be skilled in video editing, content creation, web and graphic design; this is important for students who want to work in this industry. Acquiring these skills before entering the workforce is important for success. Extracurricular involvement with organizations that require these skills can allow you to get the necessary experience. PRISM (the on-campus technology organization), which David was previously president of, provides students with training courses that can help them develop these skills as well. It also helps to be genuinely interested in technology and pursue skill development on your own time. David also notes that while it is important to focus on your education, students should make time to volunteer in the business field. Having some prior work experience that will showcase your creativity can only be an asset when applying for sales/marketing jobs.