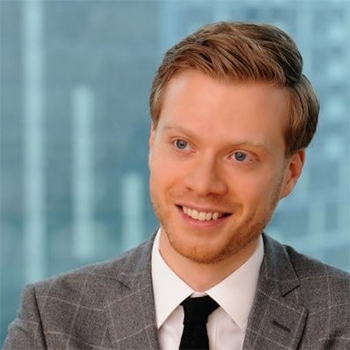 Senior Manager, Marketing Analytics (BBA)
Cameron Sinclair, RBC
By: Flora Dian, Career Centre Peer

Cameron Sinclair graduated from Laurier with his BBA in 2011, but it was not without its hiccups. Cam struggled with second year course material and felt it was not the right fit. Based on the sound advice of a professor, he turned to extracurricular activities for a creative outlet and everything improved. Cam started as the Photography Co-ordinator for the SBE students' society, which then led to the opportunity to cofound the Laurier Consulting Club with two of his friends. Later, Cam was the Vice-President of Marketing for PRISM where he managed a variety of large projects and effectively re-branded to change the face of PRISM. Cam's extracurricular experiences at Laurier allowed him to develop the skill sets and experience that he would need to launch his career.

Cam thought he wanted to pursue a career in marketing so he worked at Deloitte as a Marketing Co-ordinator and Specialist after graduation. After two and a half years at Deloitte, Cam started a position at RBC as a Consultant for capacity planning and optimization as he wanted to get more involved in analytics. Cam already had experience within RBC as he had spent a few summers working there during his undergraduate degree. After returning to RBC, Cam progressed to a new position or team nearly every year. Cam's first role consisted of examining historical volumes of work, team sizes and many more factors that aided in forecasting how many people would be needed and scheduled for a department. Cam later progressed to performing more technical work, higher-level analysis and managing stakeholder relationships.

Cam is now a Senior Manager in Marketing Analytics at RBC. His current work consists of focusing on special projects, broad channel analytics and working internally with his team, and with subject matter experts to better utilize channels to achieve the set objectives. Cam thinks through how to approach a problem, explores data and communicates his findings to stakeholders to formulate recommendations through the use of models or rules. While covering diverse subject matter, the majority of his time is focused on different ways to grow the business while improving client engagement in email and outbound calling channels. Cam likes that his job allows him to have an impact on the way business is conducted through connecting data to explore how things can be improved. Cam also spoke about the amazing culture at RBC and the support that is available to help employees explore new positions.

A career in marketing analytics requires a wide variety of skills. One should have strong technical skills with the ability to use R, Python, SQL, SAS, and/or other software programs for data management and analytics. One should also have a strong set of soft skills including communication and interpersonal skills. Being able to connect and communicate to influence others is critical to being successful, as well as having an understanding of business objectives and marketing. Integrated soft and technical skills is essential as the goal is to drive insights based on analysis, examine root causes to problems, present the message and make meaningful recommendations to improve campaigns or find optimal solutions. Cam mentioned that while the technical skills can be taught through courses or training, having the soft skills is essential to being successful.

Cam would advise students to be open to different career paths and opportunities. It can be difficult to figure out what you want to do at a young age, but if you spend your time developing skills and being mindful of what and how you are learning, you will have a meaningful career. There are many online resources available to aid students in developing technical skills, but also be sure to focus on networking and getting involved at Laurier in order to build valuable skills and relationships that will help differentiate you from your peers.