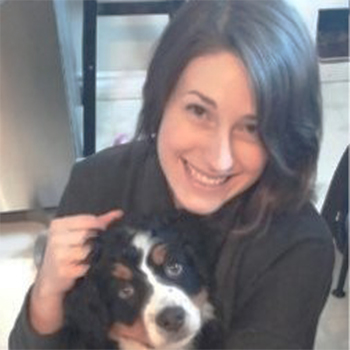 Clinical Research Co-ordinator (Psychology, BSc; Behavioural Neuroscience, MA)
Carolyn Leckie
By: Andrea Crowley, Career Centre Peer

Carolyn Leckie received her Honours Bachelor of Science in Psychology in 2011 and her Masters in Behavioural Neuroscience in 2013. Since the second year of her undergraduate degree, Carolyn continuously involved herself within different lab settings, learning new skills and new approaches to research questions. Knowing that she wanted to continue within the research field, she sought to expand her skill set into different modalities of research. In an effort to do this, Carolyn applied for a technician position working within an MRI research facility. Although Carolyn was not successful in obtaining that position, the supervisor kept her application on file and reached out to her when a clinical research position opened up as he thought she would make an excellent fit.

Carolyn currently works as a Clinical Research Co-ordinator where her role involves co-ordinating phases 1-4 of different clinical drug trials for rheumatologists in a private clinic. The bulk of the job is pre-screening patient's medical records to assess their eligibility for ongoing trials. She also works directly with patients to walk them through the research protocols and conducting various clinical assessments, scans and questionnaires. Carolyn also performs a lot of data entry and paperwork, such as reviewing budgets and contracts of upcoming trials submitted by pharmaceutical companies or other investigators, to determine if the trial can feasibly be executed at her site.

Carolyn greatly enjoys learning about the complicated and stringent testing procedures that are undertaken before a drug goes to market. This knowledge has given her a solid understanding for why those drug commercials provide you with a lengthy list of drug side effects. This job has made Carolyn more trusting of the drug and health care industry, as well as more stringent in how she reads data that is presented to the public. One of the challenges of the job is the adaptation from research within an academic setting to research within a clinical setting. In the academic world, rotating new talent and new funding means more innovative methods and technology. Hospital and clinical settings often do not have the same level of funding, which can result in the technology not being as up to date and processes less streamlined.

There are many different settings where a clinical research co-ordinator can be employed. Some of these settings include hospitals, community health care centres (such as walk-in clinics), private specialty clinics, university teaching hospitals and Clinical Research Organizations (CROs). Within a CRO, there is much opportunity for advancement to a Clinical Trial Associate; where an individual would help manage a specific trial, travelling site to site to ensure things are being conducted as planned and as per ethical and legal requirements. Any continued advancement would require further education and experience in the clinical field, such as a Physician Assistant, MD or PhD. If you know for sure that clinical research is the career for you, you can receive a Clinical Research Associate degree. However, this job can also be obtained with a Bachelors degree paired with significant research experience. A Masters degree would help your application as it demonstrates more advanced research knowledge and skill sets. During her time at Laurier, Carolyn volunteered in a few different research labs and with the Grand River Hospital psychology ward, which was very advantageous for steering her career and bolstering her application.

Carolyn pointed out a current trend where research organizations are beginning to share more data with each other then they used to. The advantage of this is that Clinical Research Co-ordinators and other medical practitioners have greater access to large aggregate databases, allowing for more research questions to be explored. To help stay on top of trends in clinical research, be sure to join and follow professional associations such as Hamilton Health Society (HHS), University Health Network and Clinical Trials Ontario (CTO).

Carolyn points out that to be successful in this field, you need to be very detail oriented, patient and empathetic. It is important to have strong communication skills and be intuitive in order to get the most information possible out of patients. Carolyn strongly encourages students to talk to professors to uncover research opportunities and access as many labs as you can during your time as a student!