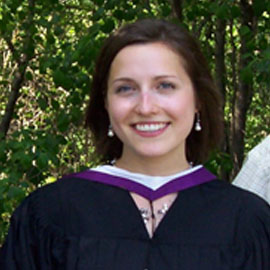 Research Analyst: Information Science (Anthropology and Religion and Culture, BA)
Elysia Guzik, Egon Zehnder International Inc.
After graduating from Laurier in 2008 with an Honours Bachelor of Arts degree in anthropology and religion and culture, a career in executive research was not yet on Elysia's radar, and for that matter likely not a career known to many undergraduate arts students. Towards the end of Elysia's tenure at Laurier, she had considered applying for graduate programs in religion and culture and potentially pursuing a career in academia. Despite her passion for learning and her interest in early Christianity and religious diversity, Elysia realized that a professional program geared towards gaining practical experience in a particular field was a more appropriate fit for her. After job shadowing a few librarians at Laurier and researching Master of Library Science programs, Elysia decided that she wanted to pursue academic librarianship as a career since it would allow her to remain engaged in academia while also providing an opportunity to obtain more practical job experience.
Even following her graduation from the University of Toronto with a Master of Information Studies degree in Library and Information Science, Elysia still did not see herself in the position that she currently holds as a research analyst with Egon Zehnder International Inc., an executive recruitment and management consulting firm located in Toronto. After speaking with a senior researcher at a Job Fair and Networking Event, Elysia's curiosity was ignited, and she realized that a research role at an executive search firm actually complemented her interests and skill set quite well. While the theoretical content she studied in anthropology and religion and culture classes may not necessarily apply directly to a corporate setting, the critical thinking and communication skills she developed throughout her time at Laurier, as well as a recognition for the need to reflect on the cultural, political and social contexts of situations before making decisions is highly relevant to the type of work involved at an executive search firm – or any global organization, for that matter.
The position Elysia holds is extremely rewarding and comes with a great deal of responsibility. Some of her day to day tasks include identifying candidates for executive search assignments, which involves thoroughly investigating career backgrounds. In addition, Elysia updates and codes records in the firm's global relational database, collects company revenue information, researches and analyzes the competitive landscape, organizational goals and challenges, executive compensation issues, as well as monitors media sources for executive appointment notices.
Like many careers, working in the executive search industry has many challenges; one of the main ones being the fast-paced environment. Elysia pointed out that jumping into a position in this field soon after graduation can be quite challenging for new grads as they're still learning a lot about the field and slowly establishing their role within it. In order to succeed in the field, you need to be able to quickly adapt to situations and be extremely flexible when things don't work out as planned. She also noted that the "firm is globally distributed, so communication can sometimes be challenging when you're exchanging ideas and information across borders and time zones."
Elysia also outlined several rewards including the opportunity to work both independently as well as part of a team. In addition, Elysia was able to directly apply her information science knowledge to develop a Records Management Policy and Records Retention Schedule for her firm, which will form the basis of the Toronto office's decisions about managing their corporate records. Elysia described it as wonderfully fulfilling to be able to apply her knowledge about records management from previous part-time work and courses at U of T and see results first-hand. The fast-paced environment brings a wide variety of activities which makes each day a little different. She also noted that "it's fascinating to learn from her colleagues who come from a range of career and educational backgrounds, and from different parts of the world."
Some advice she offered to students who are interested in working in research services and information management is to speak with someone who has experience in the field as this helped her transition from student to professional life. She found her practicum placements at Osler, Hoskin & Harcourt LLP and Our Ontario (offered through her graduate program) as well as her volunteering with the Kitchener and Waterloo Community Foundation, the Religion and Culture Society at Laurier, and the Toronto Chapter of the Special Libraries Association to be incredibly valuable in terms of gaining practical skills and experience.
"The information profession is a broad one, so it can be intimidating to make a decision about one's career path upon graduating. That said, one of the greatest advantages to being an information professional is the wide range of opportunities that it offers in a number of fascinating sectors – from academic and public libraries, to prospect research, knowledge management, corporate and specialized collections, archives and records management, and even marketing and communications."
Elysia's final advice to students considering an information science career path is not to limit yourself to a single type of role, but to be open to exploring roles that may not be immediately obvious. Elysia points out that a great way to begin grasping the diversity of information science job opportunities is to visit library and information management career websites such as Canadian Library Association, LISjobs.com, LibGig Jobs, ALAJobList, University of Toronto Faculty of Information Job Site, and the University of Western Ontario FIMS LIS Canadian Jobs – to name a few.
Elysia indicates that students interested in this area should also consider volunteering or working part-time at a local public or university library, or ask faculty members about research assistantship opportunities in your study area. If records management is of interest, you could begin researching information on the ARMA International (Association of Records Management Administrators) website about how corporations and government agencies are managing their organizations' records. Finally, Elysia points out the importance of networking - "don't shy away from making cold calls or emails to professionals engaged in this type of work, and speak with them directly about their experiences". She indicated that an effective means of identifying professionals in the field is searching LinkedIn. Joining relevant LinkedIn groups is also a helpful way of engaging in dialogue about the profession before entering it. Elysia indicated the following LinkedIn groups as useful for students interested in the field to join:


Special Library Association's (SLA) "Future Ready Begins Today"
American Library Association's (ALA) "LIS Career Options"
SLA's First Five Years
SLA Toronto – New Info Pros
And other related association groups such as Special Libraries Association, Canadian Library Association, American Library Association, Association of Professional Researchers for Advancement (APRA Canada), and ARMA International