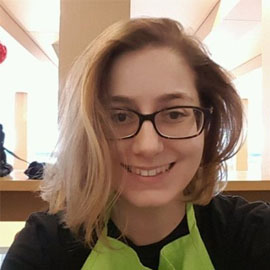 Team Lead and Historical Artifacts Researcher (Archaeology, BA)
Sarah Silvestri, eMedals Militaria and Historica
After reading a book about King Tutankhamun in grade 2, Sarah realized her passion for history. Sarah took that passion and applied it through volunteering at museums and pursuing the Bachelor of Arts in Near Eastern and Classical Archaeology at Laurier. Following her undergraduate degree, she attended the University of Toronto and earned a Master of Museum Studies degree.
Sarah currently works as a team lead and researcher at eMedals Militaria and Historica. Her role there includes identifying, researching and describing various international uniforms, orders, medals, badges and insignia from the War of 1812, the First World War and the Second World War. As the team lead, she is also in charge of hiring and training her own mini-team of researchers. Following graduation from her master's degree, Sarah commuted two hours one way to Black Creek Pioneer Village for her part-time job where she gained further experience working in a museum setting. In an effort to supplement her work week, she sent her resumé to a jewellery store where she figured she would be able to gain transferable skills in handling delicate objects; a valuable skill when working towards a career caring for historical objects. The owner of the jewellery store also owned eMedals Militaria and Historica, which is now the largest military artifact dealer in North America. Being impressed by Sarah and her resumé, the owner gave her an interview on the spot and she was hired the next day!
Prior to her current role, Sarah has worked and volunteered at many museums and non-profit organizations, such as the Art Gallery of Burlington and the Museum of Vancouver, and participated in an archeological dig during her time at Laurier. Sarah says volunteering is the best thing you can do to get your feet wet. Volunteering gets your foot in the door and helps you to put a face to your name, which is one of the best ways to posture yourself for employment.
One of the most important things to have in order to be successful in the museum field and researching historic artifacts, is passion. As Sarah says, "If you're not passionate about researching history, you will burn out quickly." A typical day of work for Sarah is researching for about six hours a day and helping out others in their open concept office. She says that teamwork and communication are vital to completing everyday tasks, wherein seeking help from other team members and brainstorming write-ups are often a necessary change of pace that help work through research dead-ends. The work Sarah performs requires a high degree of attention to detail and can be draining if you aren't passionate about history. For Sarah, she enjoys learning new things through her research and engaging in fascinating historical discussions with her colleagues. For instance, Sarah recalls a time when her co-worker was researching the Order of the Legion of Honour, which is a French order that was instituted in 1802. The order was founded by Napoleon Bonaparte, who was its original Grand Master. Over time there were several Grand Masters, including King Louis XVIII, King Louis-Phillipe and Napoleon III, and the order is still bestowed today as a National Order of France. With each leadership change, a slight change was made to the design of the order's crosses. The team discussed how interesting it was that each award is a tangible link to France's tumultuous past.
Sarah is always staying up to date on the latest news in the industry. She says that while you will learn the basics through school, independent research is necessary to stay on top of industry trends. Here are a few of Sarah's favourite websites and blogs:
Museum staff come from many different backgrounds, but in order to work with a museum's collection, candidates should have a college degree in Heritage Management or a graduate degree in Museum Studies. Sarah really enjoys her job since she is working with historic artifacts. However, in the future she sees herself as a collections manager. In the interim, she'll be spending her free time volunteering. The difference between her current position and a collections role is that while she currently focuses on researching military artifacts, a collection manager ensures the long-term care, preservation and presentation of objects within a museum or gallery.
Anything that allows Sarah to preserve artifacts and showcase them to the community is something she is passionate about. Even if it's not her dream collection of Egyptian artifacts, she still loves to learn about all historical objects and really enjoys teaching others about history.
Sarah interned as a collections management intern with the Royal Ontario Museum during her master's program. During this time she met her mentor, who taught her everything there is to know about museums. Sarah's mentor initially started off as a security guard and worked his way up to being a collections technician. His story and influence really inspired Sarah to stay committed to the field and has taught her that perseverance can go a long way in helping you to achieve your goals.