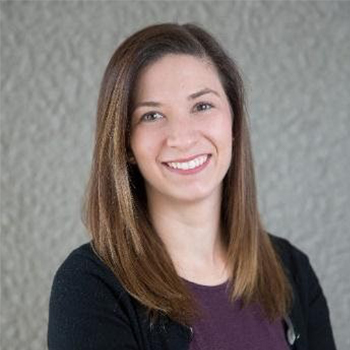 Manager, Operational Sustainability Engagement (Geography, BA)
Megan Wibberley, University of Calgary
By: Hadley Lovell, Outreach & Support Peer

Megan Wibberley began her university education as a Sociology student. However, it was her elective course in geography that really piqued her interest. Switching to a geography major, Megan found the co-op program extremely helpful as it began to expose her to careers related to the environment, conservation and sustainability. She then pursued a master's degree in Environment and Sustainability at the University of Western Ontario where she participated in a co-op work term with the City of London in the water engineering department. It was at this time that Megan began discovering a niche for community engagement and continued working with the City of London for another 2 years building water conservation programs.

Megan then moved to Alberta to serve as the Co-ordinator, Sustainability Engagement with the University of Calgary followed by a promotion to Advisor, Operational Sustainability and then Manager of Operational Sustainability Engagement. Within this role, Megan's team reports annually on the University of Calgary's progress towards achieving the goals set out in the Institutional Sustainability Strategy. The other half of Megan's job is engaging with different business units on campus to ensure they are supported and understand how their day-to-day activities uphold the Sustainability Strategy. Megan's team works on initiatives related to campus transportation, waste diversion/minimization as well as sustainable procurement. Megan describes a typical day as consisting of a lot of collaboration through meetings, phone calls and emails to carry out different tasks to support sustainability initiatives with other campus departments.

Sustainability is a really exciting place to work, according to Megan, but can be hard because change does not always happen quickly; therefore, one has to be patient. Megan has also pursued a Certificate in Change Management to help understand the process of shifting human thinking and willingness to embrace new approaches and ease transitions. Therefore, communication is a very important skill as you will have to convey complex ideas and concepts but also persuade individuals (who may be skeptical) to buy into sustainability changes and measures.

While it's exciting to see when change is happening, another difficult challenge with a career in sustainability is that it can be difficult to know if you're making an impact as some of the topics are quite nebulous and overwhelming (e.g., climate change). Given the vastness of the goals, Megan really appreciates that the University of Calgary has an Institutional Sustainability Strategy and Climate Action Plan, which provides a more tangible direction of what to focus on. This, in turn, allows them to work with people around campus to implement the changes, which Megan describes as a very empowering aspect of her role.

In terms of qualifications for this line of work, an undergraduate degree is definitely required. While a master's degree may not always be a formal requirement, many people in the field do have graduate training. She also notes that people come into sustainability roles with a variety of disciplinary backgrounds including environmental science, geography, engineering and communications to name a few. Megan pointed out that there are specializations you can acquire after your bachelor's degree such as becoming a certified energy manager. One great resource to tap into for these certifications is Eco-Canada, or the International Society of Sustainability Professionals.

Given the increased priority of environment and sustainability, Megan believes the field will only continue to grow. The University of Calgary just renewed their Climate Action Plan, which set an aspirational goal to be carbon neutral by 2050. Megan noted that the private sector also seems to be expanding their focus on sustainability practices, thus opening up more sustainability-focused job opportunities.

Some final words of career wisdom include:
• Network with individuals in the sustainability field to find helpful mentors. Megan greatly valued her managers at both the City of London and the University of Calgary who provided her with such helpful advice regarding her own job decisions and coaching on how to be an effective team member, manager and agent for change
• Make your summer jobs count – utilize resources like co-op, or a targeted job search to find related summer positions
• Don't pressure yourself to have it all figured out! Be open to exploring different opportunities as you will inevitably learn a lot about yourself and the world of work in the process
• Be sure to get involved with sustainability initiatives on campus and in the community!