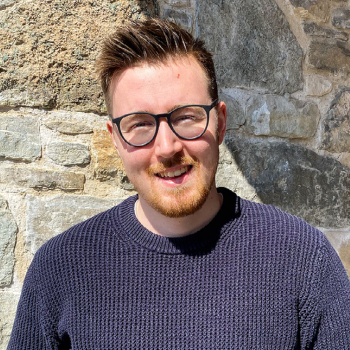 Child and Youth Counsellor (BSW)
Mathieu Beaulieu, Kapapmahchakwew Wandering Spirit School
By: Darcy Chaffe, Career Centre BSW Placement Student
Mathieu Beaulieu started at Laurier pursuing a degree in Journalism. After realizing that it was not what he was passionate about, his mother suggested that he consider social work; he could tell it was a better fit almost right away. Around the same time, he committed himself to become more connected with his Ojibwe heritage. This connection would be instrumental in helping him carve his path as a social worker. While studying at Laurier, Mathieu was involved with the Indigenous student centre where he learned more about his culture and supported other Indigenous students in various ways. He also volunteered in the Peer Wellness program, where he helped plan events, programming and resources to promote wellness.
After graduating from Laurier, he went on to pursue a master's in social work at the University of Windsor. During this time he was able to ground much of the theory he learned from his bachelor's degree into practice. He completed his practicum at the Hospice of Windsor and Essex County Inc. as a Grief and Bereavement Counsellor. He improved his case management skills, assessment skills and applied several evidence-based treatment modalities such as CBT, DBT, brief solution-focused therapy and narrative therapy. He also helped shape the anti-oppressive policy and practice at the hospice by organizing presentations at interdisciplinary team meetings to help staff better accommodate clients, volunteers, and each other.
Presently he works at Kapapmahchakwew Wandering Spirit School in Toronto as a Child and Youth Counsellor. This school is unique in that all of the students are First Nations or Indigenous. In this role, he draws from the skills he developed in his placements and integrates teachings from his culture, such as the 7 Grandfather Teachings and the Medicine Wheel, which focuses on the holistic wellness of the mind, spirit, body and soul. In this way, connecting with himself has enabled him to develop a distinct and unique identity as a social worker.
Connecting with one's identity can be challenging at times. Mathieu mentioned experiencing some internal tension between his Indigenous identity and his identity as a settler. He also dealt with feeling as though he was not "authentically Indigenous" because he did not know enough about his cultural history. Eventually, however, he was able to lean on the guidance of mentors to help him better understand who he was, a role he now plays for those younger than him.
Committing to understanding yourself, connecting with your identity and understanding how your story can become someone else's healing are powerful tools to create your own path as a social worker or to follow in Mathieu's footsteps.