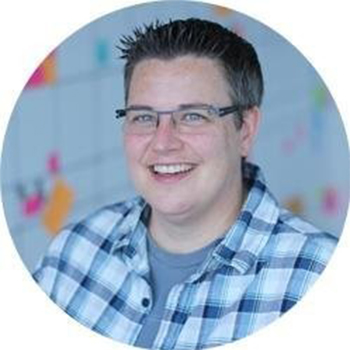 Director of Services (Social Work, MSW)
Brooke Young, Canadian Mental Health Association
Brooke Young, an inspirational leader in the social work community of Kitchener-Waterloo, currently holds the occupation of Director of Services, Regional at the Canadian Mental Health Association of Waterloo Wellington. After obtaining a Bachelor of Arts in Social Development Studies at the University of Waterloo, Brooke continued her education by enrolling in the Masters of Social Work (MSW) program at Wilfrid Laurier University. As an official 2007 Laurier alumna, she headed into the workforce seeking a full-time position.

During high school, Brooke contemplated between becoming a paramedic or a lawyer. Having an affinity for technology, Brooke initially started a career in information technology repairing computers, administering networks and maintaining websites. Her personal and family experiences lead her to volunteer with a crisis line for three years where she discovered her passion for social work and social services. From there on, Brooke participated in various roles to help build valuable social service skills including serving as the President of the Board of Directors, and Technology Co-ordinator with KW Sexual Assault Support Centre, and facilitating LGBTQ youth groups at the AIDS Committee of Cambridge, Kitchener, Waterloo & Area (ACCKWA). Brooke also worked in child welfare as a Child Protection Worker and acted as the program co-ordinator for an LGBTQ program at KW Counselling. Within this role, Brooke enjoyed providing counselling to LGBTQ youth and their families, as well as providing public education on LGBTQ issues in Waterloo Region. Looking for a new challenge, Brooke took on a System Co-ordinator position with the Canadian Mental Health Association, Waterloo Wellington Branch. As part of this system planning role, Brooke engaged in various quality improvement initiatives in an effort to improve addictions and mental health care in Waterloo Wellington. Brooke then took on a role at a human centered design consulting firm where she used innovation and human centered design methods to improve services at a wide variety of organizations. In this role, Brooke had the opportunity to engage with students at the University of Guelph about their mental health experience and lead the delivery of a mental health town hall event. Following her consulting role, Brooke rejoined the Canadian Mental Health Association initially as the Manager of Police Services and Mental Health & Justice and most recently has taken on the role of Director of Services, Regional.

As a manager, Brooke supported the day-to-day activities of staff in CMHA's Mental Health and Justice team and three Integrated Mental Health and Police Crisis Teams (IMPACT). On the other hand, at the Director level, Brooke is now overseeing a variety of services including Here 24/7, IMPACT, Self Help and Peer Support, and Mental Health and Justice Services. In this role, Brooke focuses on collaboration, quality improvement and system design. This involves attending many meetings with different teams and community partners to understand how to deliver better services to ensure that people are getting the care that they need.

Watching people's lives improve or change for the better is what Brooke likes the most about all aspects of her social work career. The idea of walking alongside someone as they navigate difficult life challenges is what drives her continuing passion to help others in need. As Brooke is no longer involved in direct treatment with clients (and instead supports the people that provide the treatment), it has provided her with the opportunity to enjoy the diversity of different roles that the social services sector has to offer.

Brooke notes that one of the biggest challenges with a social work career is trying to stretch limited resources to serve the ever-increasing demand. Sometimes people have to wait a significant amount of time before they can receive treatment, which is incredibly hard on people and their families. Sadly, there is also the major challenge of people dying by suicide. Despite the efforts of everyone involved in social services, sometimes we lose some folks to their addiction and/or mental health issues. An individual looking to pursue a career in social work needs to be creative, bring a positive attitude and have a huge amount of empathy for others. Above all, the greatest quality an individual must possess in this field is being hopeful – even when the people you work with have lost hope.

In order to practice in this field, it is necessary to obtain either a Bachelor of Social Work degree or a Master of Social Work. The most common related occupation that requires less training is a social service worker. Although social service workers and social workers are both registered through the same college, social service workers perform different duties such as supportive counselling rather than providing clinical assessment and treatment. Social work offers employment in a variety of capacities and environments including community mental health organizations, hospitals, addiction treatment providers, primary care providers, research, school boards and community development.

Brooke advises students looking to pursue this career to be a lifelong learner and consistently receptive to feedback, which is a quality Brooke feels has helped her the most for career progression. If you are passionate about advocating for people who aren't getting their needs met, then a career in social work may be for you.