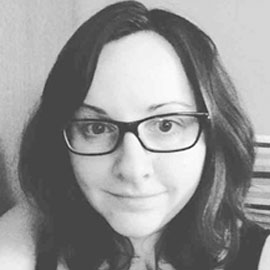 Social Worker: Palliative Care (Social Work, MSW)
Patricia Lymburner, Oncology and Palliative Care
Prior to enrolling in the Master of Social Work program at Laurier, Patricia Lymburner (2011) originally aimed to become a criminal profiler and studied Psychology and Crime, Law and Deviance (Honours Bachelor of Science) at the University of Toronto. However, she soon realized that decades of experience as a police officer is required to become a criminal profiler. Since front-line police work was not appealing to her, Patricia started exploring other career paths, particularly those in the helping fields. Finally, she set her eyes on social work after meeting other social workers and through them obtaining a better understanding of the profession. After graduating from the University of Toronto, she first enrolled in the Social Service Worker Diploma program at Conestoga College to gain practical social work experience, before coming to Laurier to obtain her Master of Social Work degree. Patricia's first full-time role began at Trillium Health Partners in Mississauga as a social worker, and switched to patient education after eight months. She worked with other regional and provincial coordinators to create the patient education program at her hospital, aiming to help patients gain health literacy, especially with regards to the conditions those patients have. Patricia stayed in the patient education role for three years before coming back to her current role as a front-line social worker in the Oncology and Palliative Care department in the hospital.
In her capacity as a social worker, Patricia aims to help improve patient well-being. There is not a routine set of tasks for her to do, so her day-to-day tasks depend on the needs of the patients and of the hospital. One of her main responsibilities is patient counselling. For example, some cancer patients find it difficult dealing with anxiety or depression. Helping patients navigate the rather complex medical system takes a lot of her time as well. Also, she facilitates cognitive behavioural therapy groups including a Women's Sexual Health group and a Living with Distress of Cancer group. Furthermore, Patricia's role requires managerial skills as she regularly attends hospital-wide meetings where she raises ideas and coordinates with other departments to see where social work can fit in to improve patient outcomes.

Although the job is demanding, Patricia says it feels empowering to be able to help people. She recalls a case where she helped a dying patient who was the father of a young child. The patient had no money, no home, and no other family in Canada. Patricia and her team had biweekly meetings to coordinate between many resources and agencies, including school, housing, welfare and children's aid. They also advocated for the mother to be able to come to Canada from overseas. Before the patient passed away, he thanked Patricia for everything her team did for him and his child. Patricia said that was one of the proudest moments in her career.
Having a supportive team of various different health care professions and other social workers is what Patricia likes the most about her job. Everyone on her team knows each other very well and they often socialize as a group after work. In a hospital setting where dealing with death is a regular part of the job, the stress and emotions can sometimes feel overwhelming for the social workers themselves, so her team tries to balance different types of patients between social workers. For example, if Patricia has worked on three cases in a row of 30 to 50 years old patients who were dying of aggressive cancers and who had young kids (which can be very emotionally draining), she would ask to be put on less-emotionally draining cases, such as patients with easier-to-treat cancers. On a lighter note, Patricia also mentioned that her job comes with great benefits and a generous pension.
Three types of education can help interested students pursue a career in social work: a college diploma in social service, a bachelor's degree of social work, and a master's degree of social work. Depending on the expertise required, different organizations have different requirements for their social workers. For example, many hospitals will only hire social workers with a master's degree, whereas Children's Aid agencies hire both master's and bachelor's. Non-profit agencies such as soup kitchens or shelters generally don't require more than a college degree. Therefore, it is important for potential job seekers to do research into where they want to work and enrol themselves in the right educational programs accordingly. While having the right academic credentials matters, students seeking a career in social work can further give themselves an edge by participating in internships or accumulating practical experiences in their relevant specialty. For example, Patricia's hospital favours candidates who have a healthcare background, which is what Patricia had when she was hired.
According to Patricia, the most important skills and personalities of successful social workers are empathy, listening, communication skills and self-awareness. Social workers need to make a connection with the people they are helping, so being able to develop that relationship quickly makes a candidate stand out. Being self-aware is also critical to provide effective services. Prospective social workers should understand that their own pre-existing assumptions should not impact the care they are giving to their clients. What the social worker himself/herself believes is the best for a patient, may not necessarily be what the patient wants.
Given the aging population and the rising costs of healthcare, Patricia thinks everyone in the healthcare system has to find ways to do more with less. For instance, hospital beds are a scarce resource and there is a backlog of patients that are waiting. Thus, a part of Patricia's job now involves facilitating the most efficient use of hospital beds by working with patients to plan their release from the hospital in advance. The pressures from this system can be rather heavy and at times can feel like it conflicts with why Patricia became a social worker. Nonetheless, she takes comfort in knowing that the next patient in line can receive proper treatment sooner when the discharge of a healthy patient is timely. With increasing healthcare needs and a slowdown in healthcare funding, social workers will play an increasingly important role in helping and managing the well-being of patients.
While it is possible for social workers like Patricia to move up the ladder into managerial roles in the hospital or in other organizations, "there's just something different, something satisfying, about being at the front line helping patients." For this reason, Patricia sees herself staying in her current role for many years to come.