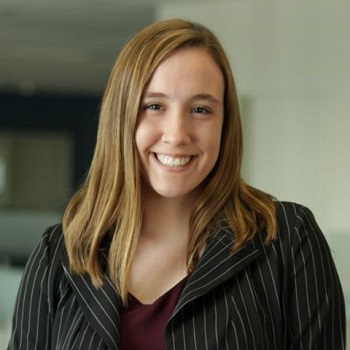 Student Spotlight - Arielle Conn-Cornakovic
Learn about fourth-year business student Arielle Conn-Cornakovic and her co-op experiences in digital marketing.
Landing your first ever corporate job isn't easy, especially as an aspiring digital marketing intern. Arielle Conn-Cornakovic, a fourth-year business student specializing in marketing and minoring in economics, knows this experience all too well.
"I knew I would need support when seeking my first ever corporate job. I had heard co-op was beneficial from previous graduates and students in the co-op program, because the co-op office offers cover letter and resume writing support, as well as interview preparation and networking opportunities through the Fundamentals of Co-operative Education course."
With the help of the co-op department, Conn-Cornakovic secured her first co-op work term at SEB Administrative services, a small benefits administration firm, where she says the focus was on her creativity.
"My favourite part of that job was running their social media accounts. It hadn't been a priority for them before, so I was able to kick-start their social media platforms and establish their brand guidelines. It was perfect for a first work term."
With the experience Conn-Cornakovic acquired at SEB administrative services, she secured a second work term as a marketing strategist at Economical Insurance and a third in the digital marketing department at Ricoh Canada. 
"I chose to be a part of the digital marketing department at Ricoh Canada because I enjoyed digital marketing so much in my first work term," she says. "I was responsible for all of Ricoh's social media accounts and was involved in every stage, from developing campaigns to analyzing results. My passion for this role led to my pursuit of a career in digital marketing."
Conn-Cornakovic adds that another benefit of co-op was being able to expand her network.
"I met so many amazing people along the way and I've built such a strong network as a result. I believe this network will be helpful throughout all aspects of my career, especially during my search for a full-time position."
Advice for Incoming Co-op Students?
"Capitalize on the opportunity to work in different disciplines, industries and organizations.  Figuring out the size of company and type of work you enjoy will help you choose your specialization in fourth year and search for a permanent job after graduation.
During interviews, employers love to hear about your extracurricular activities. Talking about these activities allows you to highlight your time management skills and segue into a friendly conversation.
Lastly, even if you do not think you are qualified for a job, apply anyway! You might surprise yourself."
What do you wish you had known before your first co-op work term?
"During my first job search, I wish someone had told me to not be let down if I didn't get many interviews or my dream position. I learned how to accept rejection and I realized that every work experience will provide me with the knowledge, tools, and resources to grow and achieve my future goals. I also wish I had known how beneficial it was to talk to my co-op coordinators. They are an amazing resource and always willing to help."