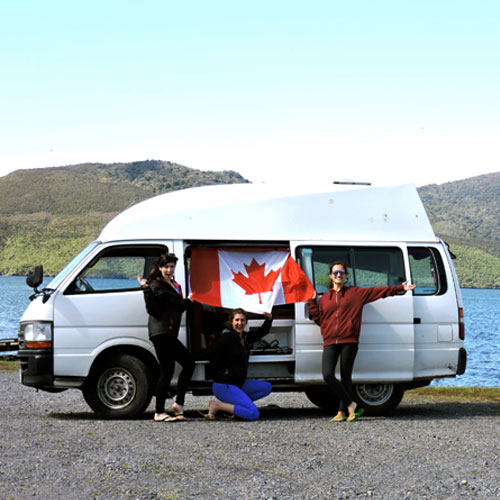 Pre-Departure Checklist
Now that you've been accepted at your host institution, it's time to get ready to go abroad. There's more to do than just pack your suitcase (though that's important too)! This information will help ensure you have a safe and fun exchange experience.
Complete the Training Material
Submit the following forms to the Student Exchange Program on MyLearningSpace:

Agreement to Participate
Off-Campus Activities Participant
Information and Photo Consent

Register for and attend the mandatory in-person Pre-Departure Symposium held each year in March.

This year's Pre-Departure Symposium is on Saturday, Mar. 30, 2019.

Complete the online pre-departure modules, offered through the Laurier International Travel Preparation course on MyLearningSpace.

Submit the Risk Management Safety Planning Record for Off-Campus Activities form to Laurier International through the Laurier International Travel Preparation course dropbox.

Visit the Government of Canada's Travel Abroad website:

Review the Travel Documents section.
Review the Travel Health and Safety section.
Register as a Canadian abroad. If you are not Canadian, please inform your home country of your travel itinerary.
Review the travel advice and advisories for your host country.
Register for Courses 
Once the host institution has received your application and accepted you, you'll receive a Letter of Acceptance or Confirmation of Enrollment. You'll also need this documentation to get your study permit/visa and, in some cases, to enter the country.
Select your courses at your host institution, if possible.
Meet with your academic advisor or program coordinator to ensure the courses you've selected are meeting your academic requirements.
Once your course registration has been approved by the host institution, complete the Course Credit Transfer Agreement (CCTA) form.
Pay your Laurier tuition and incidental fees.
Review any orientation information from your host institution.
Apply for a Visa/Study Permit
Visit the Embassy or Consulate website of your host country to get the application form for a study permit or visa, if required.

Study permit and visa processing times can vary, so be sure to check into this as soon as possible.

Review the additional requirements needed to travel to your host country.
 Get Health and Travel Insurance
Arrange for travel insurance that will cover your for the entire time you will be abroad. Be sure to account for any time spent travelling before or after your exchange term. 

Your travel insurance should include health, life and disability coverage. 
Be sure that your policy also includes emergency evacuation/repatriation insurance, which provides coverage for medically necessary evacuation to a medical facility or medically equipped flights to get you home.
Travel advisories can impact your insurance. Check on travel advisories when you get your insurance as well as before you leave to make sure your coverage hasn't been impacted by any advisories.

The Government of Canada has information on travel insurance and why it's important.
Some host institutions and countries (such as France) require you to purchase their approved health insurance plan. Check to see if this is the case with your host institution or country.
Make an appointment with a health care provider for a consultation on any immunizations that might be required for people going to your host country. 

If immunizations are required, make those appointments as well. 

Ensure you have enough prescription medication to get you through your time abroad.

Be sure to review any regulations regarding bringing prescription medication into your host country.
Make Your Travel Arrangements
Make arrangements for accommodations, including any temporary accommodations if you're arriving early in your host country.

Take note of any application deadlines and required deposits.

Research options and deals for air travel.
Book your flights and be sure you'll arrive in your host country in time for the start of classes.

Make note of all your travel information, including arrival information, airport transportation and any layovers.
Confirm your baggage allowance and restrictions. 
Read a past exchange student's tips on packing for exchange.
Finances
Check the current exchange rate for the currency of your host country.

Rates can fluctuate so check this regularly.

Make a budget for your time abroad. Be sure to budget for any time you'll spend abroad before or after your exchange term.

Include any financial aid, OSAP and scholarships. 
To help with your budgeting, do research on the cost of living in your host city, including food, transportation and entertainment costs.

Contact your bank to let them know you'll be abroad and ask if they have an affiliate bank in your host country.

Ask about international withdrawal and credit card fees.
Check the cash limit on your credit card and withdrawal limit on your debit card and, if necessary, ask about increasing the limit.
Make sure your bank and credit card company know you'll be making transactions abroad. If they don't know in advance, they might think an international transaction is fraud and freeze your cards!

Contact your cell phone provider to get information about charges while you're travelling.

You may also want to buy international calling cards to save money on overseas calls.

Have some local currency on hand for when you arrive in your host country.
If you will be on exchange during the winter semester, arrange for a Revenue Canada Tax Submission T2220A. Contact the International Taxation Office for more information at 1.800.267.5177.
Emergency Preparation
Make a copy of the emergency contact information for Laurier as well as for your host university

Give your family a copy of this information

Make photocopies of all important documents and keep them in a separate location from the originals

These documents can include your passport, birth certificate, bank information, medical and dental records, immunization records, prescription information, all documents from Laurier International and the letter of acceptance from your host institution.