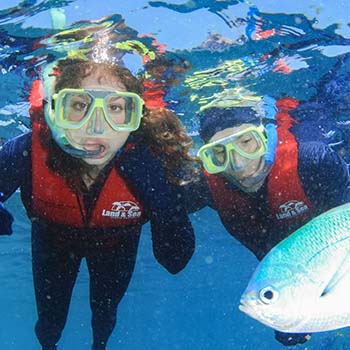 Exchange student Bailey Rand had an incredible, though shortened, exchange experience
Bailey Rand went on exchange in the winter 2020 term to Western Sydney University in Australia. Her exchange term was cut short because of the COVID-19 pandemic.
Bailey's study term in Australia began in March 2020 and she ended up only having three weeks of academic instruction before she chose to return home due to the uncertainty of the COVID-19 pandemic. "My term abroad, though cut short, was one of the most incredible experiences of my life, said Bailey.
Bailey remembers that the scenery of Western Sydney University was beautiful and welcoming. She was placed in a residence villa with both domestic and exchange students with whom she got along very well. Bailey enjoyed touring Windsor, a historic town in New South Wales, and downtown Sydney with her new international friends.
"We went to Mardi Gras, Bondi Beach and the Blue Mountains," said Bailey. "Of course, all of us were anxious to take advantage of being in this amazing country. It was a blast to get to know these super cool and interesting people, from completely different walks of life, while adventuring through Sydney." 
Between her travel excursions, Bailey attended environmental science courses at the university. Her favourite class was Marine Biology, which included bi-weekly excursions to beaches, rivers, creeks and lakes for observational analyses. This course was nothing like what she was enrolled in at Laurier and provided a unique experience overall. However, after only two and a half weeks of classes, exploring and making new friends, Bailey got a call from her parents saying it was time for her to return to Canada.
"I was having the time of my life," said Bailey. "Ask my family, they'll tell you that I can't keep quiet about it." While she was upset that her adventures had to come to an end, she knew that returning home was the safest option. 
No hugs were exchanged when she finally arrived home after many hours of travel and "it was all very eerie and confusing." Bailey's professors were very understanding of her abrupt departure, and found innovative ways for her to continue her studies in Canada while completing her two-week quarantine.   
Having her exchange term cut short has helped Bailey be more aware of taking advantage of opportunities. "One piece of advice that I would give to future exchange students is to take advantage of every moment while abroad. The greatest takeaway that I learned from exchange, and this year in general, is that you never know when things are going to change. That's why you have to enjoy the now and say yes to as much as you can. Go on that hike even though you're tired, go to the beach even though it's far, go make friends even though it can be scary. In the end, it is almost always worth it. I promise." 
Bailey is looking forward to returning to Australia as soon as it is safe to do so, and visiting New Zealand with her sister.  
"I have this intense, unwavering feeling that my time there is not done just yet. I'm considering maybe doing some schooling there, or perhaps taking a year off to work there. As part of working in Australia, you must complete a certain number of hours of work on a farm. However, for North American travellers, 'farm work' includes working on a resort in the Great Barrier Reef. Something like that sounds pretty good to me."
One more piece of advice Bailey has for anyone who finds themselves in Australia? "Try Tim Tams. They are the best cookie, and I've been thinking about them every day." 
Contact Us:
Anne-marie Henry, Global Engagement Coordinator, Brantford Campus

Office Hours:
For Anne-marie's availability, see the
Staff Listing
page.