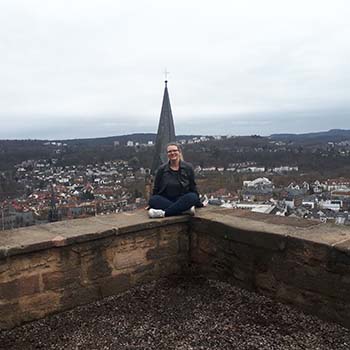 Morgan Lauzon focuses on what she experienced, not what she missed, during an exchange term cut short by the pandemic
Morgan Lauzon went on exchange in winter 2020 to Philipps-Universität Marburg in Germany.
Morgan is a Languages and Literatures student at Laurier, minoring in German. Her grandparents were from Germany, so being able to connect with that part of her heritage through language and culture while on exchange meant a lot to her. Morgan went on exchange to Philipps-Universität Marburg in Germany. The university is situated in the small town of Marburg, which Morgan describes as the "cutest place" she had ever seen.
Exchange students at Marburg are enrolled in the International Undergraduate Study Program (IUSP), which brings students from across the globe together to study and travel. "They take you on excursions together, you live in dorms together, and your first two classes in the program are all together so as you can imagine, you become quite close," Morgan said of the program.
Morgan and her new friends were determined to choose one of the many cafés in Marburg and make it their spot; they chose Die Pause, which translated to The Break. One of her favourite memories from exchange was meeting up with her friends at Die Pause to try the many pastries on the menu. "When in Europe, trying anything and everything edible is a must," said Morgan. "You never know what you may love."
Meeting up at Die Pause also gave Morgan a chance to practice her German language skills and she encourages students to learn common phrases in the local language of the country so that they can be more independent during their studies. "Having the confidence to walk into a store and be able to ask where something was, say hello and excuse me, answer when the cashier asks if you want bags or a receipt, just made the experience that much better," she says. 
Morgan's time in Germany was cut short by the COVID-19 pandemic and she recalls that her transition home was difficult because she had to part with her new friends. Overall, though, she knew she had made the right decision to return home and is grateful for the support that Laurier International provided during her travels back to Canada.
"Finding a flight was easy but keeping the flight was difficult," she said of her attempts to return home. After many cancelled flights, and some tearful farewells, Morgan finally arrived in Canada. She continued her courses online while in quarantine at her sister's house, where she also celebrated her 21st birthday.
"I consider myself to be a part of this weird exclusive group of people that got to experience the pandemic abroad and the stress of trying to get home or choosing to stay. Even though it was tumultuous the last little bit, now I, and so many of us, have a pretty unique story," she said.
Morgan noted the importance of acknowledging the overwhelming feelings that came with reflecting on the could-haves and should-haves of her time at Marburg. She offers students this piece of advice: "Travel as much and whenever you can. As we learned, you never know what can happen or when you may have to leave, so don't waste time getting comfortable or waiting for that golden moment. So many cool and new experiences are going to arise for you, all you have to do is say yes."" 
Morgan is excited to visit Europe again, when it's safe to do so, to reconnect with the friends she made at Marburg. She has also been in constant contact with fellow IUSP students since their departure. "I couldn't say more good things about my exchange experience and when people ask, I love to talk about it," she said. "Despite it ending early and so abruptly I don't look back on it with anything but positivity."
Contact Us:
Anne-marie Henry, Global Engagement Coordinator, Brantford Campus

Office Hours:
For Anne-marie's availability, see the
Staff Listing
page.