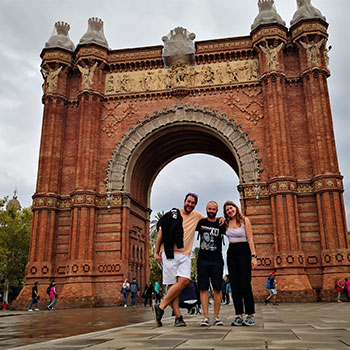 Get to Know Yourself Through Exchange
Outbound exchange provides an exciting opportunity to experience faraway places, create lasting friendships and grow your intercultural knowledge, but it's also an opportunity to learn more about who you are and who you want to become.
We know that you have lots of questions about what exchange is like, and why it's important, so we spoke with Nicole, a 4th year BBA student currently on exchange in Spain about why international mobility is important to her, and what students should think about when making their exchange decisions.
Nicole first met other exchange students at her high school in Victoria, BC. It had a large inbound exchange program with close to 200 students joining in grades 10 and 11. Meeting other students from around the world informed her early interest in international mobility.
"I connected really well with the international students and one comment that I often heard from them was that a lot of Canadian students didn't really integrate with them. I really enjoyed learning about their cultures and getting to know people from all over the world and how they differed from how we did things. So I knew from a young age that I always wanted to do a term abroad once I got to university because

I had kind of lived vicariously through all these students and I was ready to have my own exchange when the time came."
Minoring in Spanish, Nicole chose Universidad Francisco Vittorio in Madrid Spain as her exchange location for several reasons, but she needed to make sure it was a good fit for her personality.
"It was less about the university and more about the location. Because I was doing a minor in Spanish, I knew that I wanted to do an exchange in a Spanish speaking country. So it was between Mexico and Spain, I had a lot of exchange student friends who were from Spain and so I just kind of asked them, 'These are my options. What is going to be the most fun for me?' The University is great, but it was more about choosing the city that I knew would really suit my lifestyle."
A major theme of our conversation was self-awareness, and that is a great takeaway for students planning to go on exchange. Nicole knew she needed access to great public transit, a city with a lot going on, and the ability to travel around Europe and see a lot of her exchange friends from high school. It can be difficult to know what's a good fit for you, especially from home in Canada, but along with the support of the global engagement team, Nicole has some additional tips,
"Maybe go around your own city and think about the things making you happy and what you couldn't live without. And then make sure you're going somewhere that has those things. I think it's really important to know yourself and know what you need. If you're someone who really likes nature, then maybe it's better to go somewhere where you know you're going to have easy access to nature."
Planning is a key part of having a successful and enriching exchange experience, but when something unplanned comes up, being flexible and open to new experiences will help greatly.
"You have to go with the flow because you're going to face challenges. You're going to face issues, but as long as you're safe and you're healthy, You have to let it go."
Thanks for taking the time to chat, Nicole. We hope to see you back on campus at Laurier soon!
The Final deadline for Fall 2023/Winter 2024 exchange applications is January 27, 2023. Don't miss your opportunity to study abroad, travel, make incredible memories and meet life-long friends. Email exchange@wlu.ca or see our website for more information.