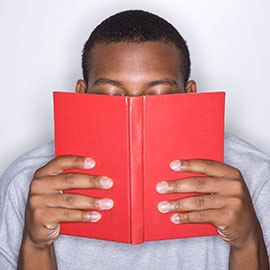 Eight ways the library can help
Laurier's library has three locations: Waterloo, Brantford (Grand River Hall) and Kitchener (Lyle S. Hallman Faculty of Social Work).
Here is a rundown of important library services for students:
1. Visit the Library – Buidling Hours, Services and Study Space
Come visit the Library!
For information on Waterloo and Kitchener (Faculty of social Work) library hours see Library locations.
For the information on Brantford library spaces, including accessing the Digital Library and Learning Commons (DLLC) and Brantford Public Library, see the Brantford Library locations.
Note: Masks are optional in all areas of the Waterloo Library, the Kitchener FSW Library and the Brantford Digital Library and Learning Commons (DLLC) with the following exceptions:
instructional spaces (Archives, Maker Space and Library Instruction room #314)
floors three and four of Waterloo Library which have been designated that require masks to support students who wish to work in a mask-only space
Study Spaces
Ask Us Virtual Chat Service
Available at the following times:
Monday to Friday: 8:30 a.m. to 8 p.m.
Saturday and Sunday: 11 a.m. to 5 p.m.
2. Access your Course Readings Online
Students can access course readings from the Library using the online reserve system (Ares), available from the Course Readings link on the Library homepage or within the MyLearningSpace page for your course. For more information on locating course readings, see How to access course readings.
3. Find Library Resources with Omni
The Library provides access to 1.3 million online resources and more than 20 million print resources available through the Library's Omni search system. Omni searches resources across 16 university partner libraries in Ontario, and automatically finds books and other resources that can be requested and delivered to Laurier. For an overview of how to use Omni, please refer to the Library's video tutorials or the Omni FAQ.
The Library will continue to offer several innovative services developed during the pandemic shut down.
Scan on Demand: Users can request scans of print book chapters or single journal articles held at the Laurier Library Waterloo campus. Scanned items will be delivered via email. For more details, visit the Scan on Demand service page.
Mail on Demand: Users can request books and other print items from Laurier and all partner Libraries through Omni for delivery by mail. The Library will mail your requested items to you with return postage included. For instructions on how to use it, visit the Mail on Demand service page.
4. Get Help with Your Research
Don't know where to start on a research project? The library offers fully online research assistance. Chat live or meet one-on-one with a librarian who can help find what you are looking for.
Check to see if your course has a course guide to find the information sources you need. You can also refer to library subject guides, which provide top research materials for your area of study.
And consider attending a library's events or workshop, which are offered throughout the fall and winter terms. For graduate students, check out the ASPIRE program for skills training and instruction sessions.
5. Meet Your Librarians
We have librarians assigned to every program subject and campus at Laurier. These helpful folks are an invaluable resource. You can also book a librarian for one-on-one assistance with your research.
6. Support for Accessibility/Students with Disabilities
The Library provides a number of services to remove barriers and allow opportunities for equal participation. The Library provides a number of supportive services, including bookable closed study rooms at Waterloo campus, resources in alternative accessible formats for visual or perceptual disabilities through our scanned book services (ACE and HathiTrust Accessible texts) and our in-house adaptable technology.
Check out the Library's new Accessibility Hub for more information.
7. Tackle Citations
Citations can be tricky and cumbersome, but they are part of academic writing and the library can help you learn how to cite properly. It can also be confusing to organize and use citations in your work. The library also teaches sessions on free tools to help you automate citations.
8. Get Work Experience
The library is one of the largest student employers on campus, offering both paid and volunteer positions – that help you gain valuable work experience and income.
Have Questions?
Please feel free to contact the Library through the Ask Us service if you have questions.