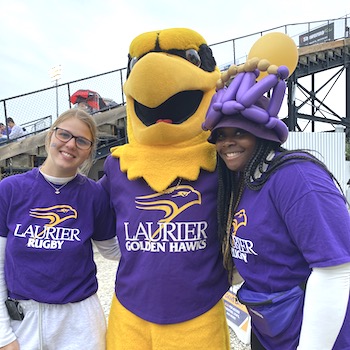 Homecoming 2023: Events for Students
Looking for ways to get involved and celebrate Laurier's Homecoming 2023? You're in the right place.
Laurier Homecoming on the Waterloo campus is right around the corner, and we are so excited to celebrate with our current Laurier students and engaged Laurier alumni. Everyone knows Homecoming is about Laurier alumni coming together and celebrating their memories of being a Golden Hawk; however, that doesn't mean our current students can't celebrate just as much.
Check out the Homecoming Menu Contest, including the Homecoming Feature Items at our on-campus food service locations. As well as the schedule for all events happening this week for our current students.
Homecoming Menu Contest with Veritas and Wilfs
From Sunday Sept. 17 until Sept. 24, Veritas and Wilfs will feature a Homecoming-themed item on their menu. All students who purchase or order the items below, scan the QR code on the tables for your chance to win two tickets to the Blue Jays vs. Tampa Bay Rays on Oct. 1 at the Rogers Centre in Toronto. Transportation is not provided.
Veritas – Laurier Lemonade
Wilfs – Spin Dip Appetizer
Events for Current Students
Family Feud with Laurier Black Students' Association
Date: Tuesday Sept. 19, 2023
Location: Wilf's Restaurant
Time: 8 – 10 p.m.
Description: Start the Homecoming events off in Wilf's with Family Feud! Come watch an entertaining show as the members of the Laurier BSA battle it out for a Homecoming prize pack. Fill out the audience survey to submit your responses.
Wilf's Homecoming Trivia
Date: Wednesday Sept. 20, 2023
Location: Wilf's Restaurant
Time: 8:30 – 10:30 p.m.
Description: For lots of our Laurier Alumni, Wilf's Trivia used to be one night of the week that all of campus looked forward to! Start memorizing your answers to all things Laurier! Original Laurier colours, official name of the Laurier Golden Hawk and more will be asked at this year's Homecoming Trivia. Grab your friends, roommates, or classmates and make sure to book a table for Wilf's Trivia.
Take a Selfie with Midas
Date: Thursday Sept. 21, 2023
Location: Travelling around Campus
Time: 2 – 4 p.m.
Description: Looking for a new polaroid to hang in your dorm room? Keep an eye out for Midas the Golden Hawk around campus to take a selfie and add some #laurierlove to your student living space. Bring your friends, roommates, classmates and more to snap a pic with this famous Laurier celeb!
Pancake Breakfast
Date: Saturday Sept. 23, 2023
Location: Quad
Time: 10 a.m.
Description: Start Homecoming Saturday off in the Quad with Pancake Breakfast! Enjoy a delicious breakfast, lawn games, and so much more. This event is family friendly and welcomes all ages. No registration required! See you there!
Football Game and Student End Zone
Date: Saturday Sept. 23, 2023
Location: University Stadium
Time: noon
Description: Get your tickets for Homecoming Football! Come on home to University Stadium and see your Golden Hawks take on the McMaster Marauders. Purchase your tickets.
Student Safety
Finally, it is important to remember to stay golden this Homecoming weekend, Golden Hawks. As you think about your Homecoming Weekend please think about what it means to be a Laurier Golden Hawk, how you represent yourself to our alumni and the cities of Waterloo and Brantford, and the impact of your choices. Most importantly, please think about your safety. Information about safe and respectful behavior, as well as police presence and fines, is available on the Safety Tips page. Be smart. Stay safe. Be respectful.