Careers
What do Employers Look For?
"Inside Higher Ed makes an excellent point about what employers say they want in the ideal employee: someone who has a broad knowledge base, who can collaborate to solve problems, debate, communicate and think critically. Those are all skills that humanities programs insist students learn before they graduate."
 "Majoring in the Humanities Does Pay off, Just Later," Forbes, Jan. 22, 2014.
Career Options for English and Film Majors
Laurier's Career Development Centre can help you build a resume, interview skills and more.
"You want people who can think. They won't necessarily have specific skills anyway ... I used to joke that if you can find me someone who has a degree in figuring out patterns of imagery in Chaucer's Canterbury Tales, I can teach him to break down a balance sheet in 30 minutes. What you want is a mind … A liberal arts education is extremely valuable for someone coming into business because increasingly business is about context as well as about technical aspects."
Matthew William Barrett (former Chairman of BMO and Barclay's Bank) outlines what he looks for in aspiring employees, The Globe and Mail, Aug. 23, 2012.
"Well, strange as it may sound, if you're an employer who needs smart, creative workers, a 50-page honors project on a 19th century French poet might be just the thing you want to see from one of your job applicants. Not because you're going to ask him or her to interpret any poetry on the job, but because you may be asking him or her, at some point, to deal with complex material that requires intense concentration - and to write a persuasive account of what it all means. And you may find that the humanities major with extensive college experience in dealing with complex material handles the challenge better - more comprehensively, more imaginatively - than the business or finance major who assumed that her degree was all she needed to earn a place in your company."
Michael Bérubé, President of the Modern Languages Association, 2012.
Study English and "Write" Your Career
English majors follow many different career paths after they finish their undergraduate degree. You can discuss options with your undergraduate advisor and with consultants at the Laurier Career Development Centre.
It is important to understand that employers hire people, not just degrees. The skills and knowledge you develop as you study English, in addition to your extracurricular activities and individual talents, have a major impact on hiring decisions.
Example Career Paths of Laurier English Majors
Graduate and professional degrees:
MA and PhD in English or Comparative Literature (or other related fields)
MA in Library and Information Science
Bachelor of Education and Graduate Studies in Education
Law School
MBA
MA in Social Work
Journalism
Careers:
Alumni Development Officer
Communications and Program Assistant, European Commission
Copy Writer
Customer Service Representative (RBC)
Digital Communication Specialist (Financial Institution)
Editor/Editorial Assistant
Educational Software Development 
ESL Instructor
Event Planner
Fundraiser
Human Resources
International Education Tours
Journalists for Human Rights
Marketing Manager
Not-for-Profit Organizations
Public Relations
Publishing
Radio Journalism
Scriptwriter
Teaching English Abroad
Trade Sales Assistant
Travel/Tourism
Visual Merchandiser 
Writer/Communications Coordinator (High Tech Industries)
Film Studies Careers
Graduates with a degree in Film Studies can pursue the following careers:
Broadcaster/Host
Cinema Manager/Owner
Communications Officer
Copyeditor/Editor/Editorial Assistant
Dialogue Editor
Documentary Filmmaker
Entertainment Agent
Film Archivist
Film Critic/Film Journalist
Film/TV/Webseries Producer/Production Co-ordinator
Grant Writer/Administrator
Lighting/Set Designer
Location Scout/Manager
Marketing/Promotions Manager
Multimedia Designer
Publishing Representative
Research Analyst/Assistant
Script/Manuscript Reader/Scriptwriter
Sound Designer
Actual graduates of Laurier's Film Studies program have pursued successful careers in:
Community relations/Event planning
Communications
Marketing
Film archiving
Education/Teaching
Academia/Universities
The Toronto International Film Festival (TIFF)
Film production
Television production
Webseries production
What Our Graduates are Doing
Laurier English and Film students have gone on to pursue a wide range of exciting careers in traditional and non-traditional areas. All the testimonials stress the importance of writing, communication and analytical skills — command of language is crucial to all fields. These statements demonstrate how fundamental English and literary studies have been to success in postgraduate education and careers straight out of undergraduate degrees.
Colin Brush (BA English '15)
Fiction Editor for Broken Pencil Magazine
"My English degree has been fundamental in achieving success as an editor. I introduced myself to the magazine as a writer – a short story of mine was selected for publication. Once that barrier was broken I began contributing reviews, articles, and soon I was put in charge of my own column. When a position became available as part of the editorial staff, all I had to do was ask for it. None of this could have been made possible without the skills gathered through my English courses. The continual essay assignments sharpened my writing skills while creative courses taught me how to control my authorial voice. As an editor, it is crucial that I articulate the gap between good and bad writing, a skill which was the basis of my learning at Laurier."
Devyn Coady (BA English/History '09)
Associate Lawyer in Litigation, Sorbara Law (Waterloo)
"From my perspective, a degree in English has been an excellent foundation for the writing skills required in the legal profession. It has taught me attention to detail and a creative writing style that allows me to excel in legal research and writing, including formal submissions and facta. This is a skill that those who come from the more 'professional' degrees such as business or engineering have to develop as they go through the program and into the profession."
Kayla Thompson (BA Film Studies '08)
Senior Technician, Media Archive Central England
"After I finished my master's in Film Archiving at University of East Anglia (UEA) in the UK, I got a job at the Media Archive for Central England, where I do technical prep, film repair, and digitisation. I love it! My degree at Laurier was essential to the career I have now, as I wouldn't have known film archiving was a viable career path without it! I owe this to Dr. Spring and the Early Cinema class I took in my final year at Laurier. My final essay in that class confirmed that it was a field I wanted to pursue, and I used the essay for my application to UEA."
Sarah Mielke (BA English '13, MA English '14)
Tour Consultant at EF Educational Tours
"I graduated from Laurier with my BA and MA in English. Since leaving Laurier I landed my dream job working for EF Educational Tours, partnering with educators to show students the world. I would never have been able to get this job were it not for the skills I learned through the English program. In English, you read everything with a critical eye and ruthlessly edit your own work. One of the most valuable skills I have learned from the English program is to be open to constructive criticism and constantly seek improvement. As an English major you become an expert at both written and oral communication. I developed the confidence not only to present myself in a one-on-one interview successfully, but also to present material to large groups of people. Overall English has made me a disciplined, critical, and confident individual who is ready to take on the challenges of the modern workforce."
Graeme Blyth (BA Film Studies '09)
Unit Manager, Yap Films (Toronto)
"The skills I learned in the Film program definitely got me to where I am today. Most of all, they prepared me for critical viewing, whether I'm watching a cut of a film or pointing out factual inaccuracies before it goes to broadcasters. I oversee all the productions at Yap, from development to post-production, and organize the logistics of a specific special or series, including scheduling, travel, and paperwork."
Shelley Therrien (BA English/Film Studies '10)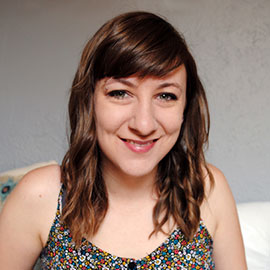 Film and Television Editor
"My English and Film Studies degree at Wilfrid Laurier University gave me the theoretical and historical understanding of literature and cinema. This was the perfect foundation for me, to which I added practical film production training through a post graduate certificate from Sheridan College. Through class discussion, conducting research, and constructing essay arguments, I gained the tools to analyze and contextualize media and texts in terms of stylistic, generic and thematic elements. I feel this has given me an advantage as I've gone forward in my career development. In pursuing work as a film and television editor, as well as a novice screenwriter, a strong understanding of media fundamentals has given me the confidence not only to utilize conventional methods, but also to explore the limits of those conventions in my own work."
Andy Baechler (BA English '07)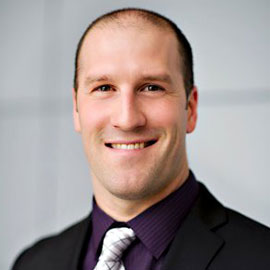 Media Relations, Communications and Sports Information Officer, University of Guelph, Gryphon Athletics
Golden Hawk Hall of Fame 2015
"Immediately after receiving my English degree from Laurier, I began a broadcasting career in Toronto working for a nationally televised network. The presentations I did during my fourth year seminars allowed me to feel comfortable in front of the camera. Being asked to produce scripts specifically for television was a seamless transition for me thanks to the four years spent honing my writing skills and producing essays at Laurier. Currently, I work in communications at the university level where I'm asked to identify storylines and provide clear, concise written content on a daily basis. I've been able to handle all of the tasks thrown my way during my career thanks in large part to the set of skills I developed while studying English at Laurier."
Hanna Burnett (BA Film Studies '12, MA English '13)
Coordinator, Programme Services, Toronto International Film Festival
"Not everyone is lucky enough to get to study something they love for four years and then get to work in their chosen field. For me, that passion was film and I owe the development of my love of film and my position within the industry to my time in the Laurier Film Studies program! Great professors, great friends, incredible material and an engaging setting – who could have asked for a better university experience?"
Susan Lockett (BA English '99)
Development Officer, Cambridge Memorial Hospital Foundation
"The skills I acquired throughout my English degree prepared me extremely well for a career in fundraising, volunteer management, marketing and media. Studying literature and film gave me clear insights into human relationships. In fundraising, relationships are pivotal. I was taught to question, to research, to debate, and to embrace new opinions and ideas. We were rewarded for critical thinking and for developed listening skills B both are extremely valuable in the business world. Writing for a variety of audiences was helpful in writing proposals for large corporations, or for a simple, professional thank you note. The opportunity to study written works from different cultures helped me learn to communicate with diverse groups. Pursuing an Honours Arts degree also gave me the freedom to augment my literature courses with personal interests such as Business, Psychology, French and Religion and Culture. A well-rounded Arts degree has prepared me to inspire others with my words, and lead my organization with a sense of purpose."
Priscilla Galvez (BA Communication Studies/Film Studies '07)
Associate Producer, Blue Ice Pictures (Toronto)
"I was intimidated by the uncertainty of pursuing a career in film and TV so I initially enrolled in the Film program as a safe bet. But my program ended up being the perfect foundation for my career in film. Its hands-on editing course cemented my passion in filmmaking and motivated me to pursue film production after graduation. My experience has helped me become a well-rounded filmmaker and producer working in the industry today."
Chris Limisis (BA English/Film Studies '08)
Post-Production Supervisor, Cineflix (Toronto)                                                                
"I have been working in TV for almost seven years now. My job requires a vast technical knowledge in post production, as well as the ability to be a problem solver amidst an often crazy, high pressure work environment. I wouldn't trade my time at Laurier for anything. I was very fond of the Film program in particular and my professors who genuinely always tried to make every lesson engaging and rewarding. The knowledge I gained at Laurier created a domino effect: it got me into Sheridan, which in turn got me started in my first job in the industry. Laurier was an invaluable time in my life that I often think back on fondly and miss the days when I could debate great films with like-minded peers."
Jordan Knoll (BA Communication Studies/Film Studies '09)
Digital Marketing, Lion World Travel (Toronto)
"I do online advertising, social media management, website management, content creation and distribution, email marketing, analytics and reporting. Laurier's Film Studies program was instrumental in my career because it gave me strong writing and critical thinking skills that help me every day in my career. I've also discovered that many people in the business world are film fans, so being able to talk intelligently about film comes in handy!"
Katie Parkes (BA English/Film Studies '13)
Community Relations and Events Specialist, University of Waterloo
"Laurier Film Studies took my love affair with film and made it a marriage. My professors shared with me the films that move and inspire them, and their passion ignited mine. That passion is the greatest asset I have in the industry. It's nearly impossible to compete with someone doing what they love."
Dru Jeffries (BA English/Film Studies '07)
Postdoctoral Fellow, University of Toronto
After Laurier, Dru went on to complete a master's in Cinema Studies and a PhD in Film and Moving Image Studies.
"I've recently submitted my first book to a major academic press, which is the culmination of a research project that I first developed in my time at Laurier. Currently, as a postdoctoral fellow at the University of Toronto, I'm teaching a course about doppelgängers — another research interest that can be traced directly back to films and concepts that I first encountered in Laurier classrooms."
Kimberly Elworthy (BA Communication Studies/Film Studies '10)
Communications and Public Affairs Officer, Wilfrid Laurier University
"With a Film degree from Laurier, I started my career in Toronto's television industry, working in production offices. My education in Film gave me a foundation of writing skills to write scripts and pitches for producers and gave me a better understanding of film and media production in the larger context of society. Transitioning to public relations at Laurier, my Film degree continues to provide value as I connect with fellow Film studies alumni both in professional and volunteer settings."
Krista Boniface (BA Communication Studies/Film Studies '12)
Communications, Academy of Canadian Cinema and TV
"A vital sign of the Film Studies program is the fact that my classmates have become my colleagues and collaborators in the film industry. I will always be grateful to the professors at Laurier for investing so much in us and our learning. This has completely pushed me to where I am today."