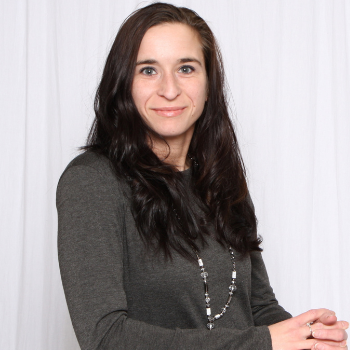 PhD student focuses on growing evidence within Canadian foot care
We asked our current Graduate students to tell us a bit about themselves and what kind of things they are researching.  Below is an overview of Kelly Robb's work. With Kelly already being engaged in the field of Pedorthics prior to returning to academia, she wanted to further understand the mechanisms explaining "how" foot orthoses function. 
Meet Kelly
Name: Kelly Robb
Program: PhD Kinesiology. Moving on to a post-doctoral position with Dr. Perry
Educational Background: B.A. Kinesiology – Western University, Diploma in Pedorthics – Western University, MKin – Wilfrid Laurier, PhD Kinesiology – Wilfrid Laurier 
Current Project/Thesis/Field of Study: Neuromechanics, foot orthotics, texture, sensory augmentation from the plantar foot sole, lower leg and plantar foot intrinsics EMG
Tell me about yourself and how you became engaged in your field of study?
I was already engaged in the field of Pedorthics prior to returning to academia. The study of foot orthoses was of interest to further understand the mechanisms explaining "how" foot orthoses function, in efforts to gain insights into improved foot orthoses fabrication and patient care. As a clinician, I was slowly losing motivation and began questionning best practices… however, I rarely found pedorthic-related research relevant to our clinical industry. This largely motivated my interest in returning to research, deciding to try and answer some of these questions for myself, while further growing the body of evidence within Canadian foot care.
Provide a brief overview about your research
My research has explored how the addition of texture in foot orthoses design can capitalize on the physiological properties of skin in the plantar foot sole. By understanding the neurophysiology that governs the cutaneous reflex loop, the use of texture can be a method of changing neurological signals entering the spinal cord, and subsequently modifying muscular activity while we walk. The results of my research creates benchmark data to advance foot orthoses research in support of the neuromotor paradigm.
How do you stay passionate as a graduate student?
I personally like asking questions and determining the best method of answering them. This is truly what drives my passion! I'm also actively involved in the Pedorthic Association of Canada, which further drives my hopes of advancing the Canadian foot orthotic industry.  Within my graduate studies, I always try to have multiple projects ongoing at once. There are definitely moments where I feel less stimulated – for example, running statistics vs. in-person data collection. When multiple projects are running at once, this allows for variety within your work day and creates balance between tasks that feel harder to complete, versus those I find more enjoyable.
What one piece of advice would you give to other students interested in pursuing graduate studies?
Don't shy away from communication with your supervisor – they can be your best friend in this process, not your enemy. Your supervisor is available for support, even during those moments when the both of you are saturated in emails and work. I quickly learned that communication is also facilitated when you take the time to learn "how to make it easier" for your supervisor. Having a discussion related to this is important – for example, discuss what you can do for them to facilitate a prompt response or edit. These small discussions can go a long way to decrease your personal anxiety, and increase efficiency and the positive relationship between you and your mentor.
Where can someone learn more information about your program or research? 
Robb K, Hyde, J, Perry  SD. (2021) The role of enhanced plantar-surface sensory feedback on upper leg EMG during planned gait termination. Journal of Somatosensory and Motor Research, 38(2), 146-156.

Robb, K., Melady, H., Perry SD. (2021) Fine-wire electromyography of the transverse head of adductor hallucis during locomotion. Gait & Posture, 85, 7-13.
Robb, K. & Perry, SD. (2019) Textured foot orthotics on dynamic stability and turning performance in Parkinson's disease. Journal of Motor Behavior, DOI: 10.1080/00222895.2019.1639609
Robb, K. & Perry, S. (2019). Foot shape: is it an important consideration in footwear and foot orthoses research? Footwear Science – 2019 Proceedings from Footwear Biomechanics