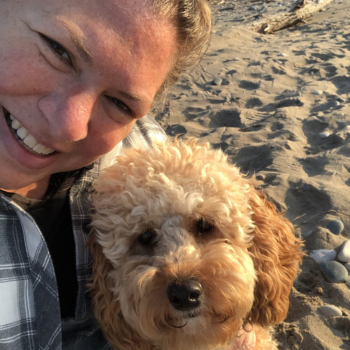 Indigiqueer and Two-Spirit perspectives critical to land-based abolition, says Laurier Social Work instructor
When it comes to Indigenous sovereignty, Giselle Dias says members of the Indigenous queer, Indigiqueer and Two-Spirit communities are often left out of the conversation.
That is something Dias wants to change through her doctoral studies in the Indigenous Field of Study program offered by the Lyle S. Hallman Faculty of Social Work at Wilfrid Laurier University.
As well as a doctoral student, Dias, a queer, disabled Métis community organizer, is an instructor in Laurier's Indigenous Field of Study Master of Social Work program and director of the university's Centre for Indigegogy. She has focused her doctoral studies on Indigenous queer, Indigiqueer and Two-Spirit perspectives of land-based abolition — dismantling colonial systems, such as police, prisons, child protection services, and other carceral sites that remove Indigenous peoples from their ancestral lands.
Dias liaises with other Indigenous queer, Two-Spirit and Indigiqueer people about their work on abolition, climate justice and Land Back within a heteropatriarchal society. Below, she discusses her interest in Indigenous queer, Indigiqueer and Two-Spirit perspectives of land-based abolition and how she sees her studies contributing to change in both Indigenous and non-Indigenous communities.
TELL US ABOUT YOUR INTEREST IN WHOLISTIC LAND-BASED ABOLITION.
My interest in abolition comes from a desire to break down the systems that continue the colonization of Indigenous peoples. Abolition is discussed in many activist communities. Land-based abolition, in particular, centres on dismantling the systems that remove Indigenous people from their ancestral lands, such as prisons, policing, child welfare programs, and other carceral systems.
Of interest to me is how Indigenous queer, Two-Spirit and Indigiqueer people, are leading land-based abolition and Indigenous sovereignty. Although our identities have been diminished through colonialism, I am interested in the resurgence of our communities in movements that are engaged in returning the land and dreaming of Indigenous queer, Two-Spirit and Indigiqueer futures.
WHAT INSPIRED YOU TO PURSUE INDIGENOUS QUEER, INDIGIQUEER AND TWO-SPIRIT PERSPECTIVES OF LAND-BASED ABOLITION IN YOUR DOCTORAL STUDIES?
I was actively involved in the activist community and have been engaged in abolition-related work for nearly 30 years. For me, when I hear Indigenous people talk about abolition from a land-based lens, they are talking about anti-colonial abolition, which is really exciting. I want to continue conversations that centre Indigenous queer, Two-Spirit and Indigiqueer visions for the futures – because there is an idea that we don't exist now or in the future.
Colonialism has eroded traditional Indigenous views about being Two-Spirited to replicate systems that rely on binaries – men and women. Heteropatriarchy and colonialism have tried to erase our history much like a cultural genocide. Indigenous queer, Indigiqueer and Two-Spirit people are excluded from many Indigenous communities, culture and ceremony. We are not widely accepted in Indigenous communities due to internalized colonialism, where patriarchy and heteronormativity are the dominant narratives and often result in transphobia and homophobia.
Prior to colonialism, Two-Spirit people were important members of Indigenous communities and held a lot of stature and importance in particular Nations, and I want us to generate conversations on what land-based abolition means for us.
HOW DO YOU ENVISION YOUR DOCTORAL WORK MAKING A DIFFERENCE?
I see my work having a place in community activism and academia. Indigenous abolitionism is not embedded into social work curriculum, so I have been working with other faculty members to develop curriculum in this area. The Centre for Indigegogy at Laurier has training and workshops that address topics such as decolonizination, Indigenous research methodologies, Indigenous abolition, solidarity and wholistic professional development. So, it's an exciting time.
I love talking with Indigenous and non-Indigenous Social Work students in the Indigenous Field of Study program about abolition. I am very passionate about opening people's minds to dreaming new futures and doing that from a queer Indigenous lens feels particularly exciting.