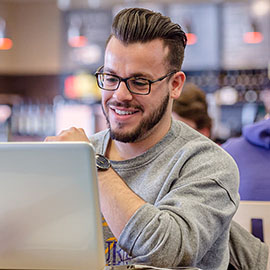 Assessment Tools in Remote and Online Courses
Your instructors have access to a variety of assessment tools supported by Laurier. Tools approved for use by the university have been reviewed by relevant university departments for fitness for purpose and use in teaching, and have met the requirements and expectations set by the institutional procurement process, which includes a Privacy and Security Impact Assessment.
The decision on what type of assessment tool an instructor might integrate in their course comes down to ensuring the tool – and the type of assessment – can effectively assess the stated course learning outcomes.
Review the following assessment tools and corresponding assignment purposes to learn more about the different tools and technologies you may encounter throughout your time at Laurier.
Assessment Tools
Collect assignments: Used to collect paper-based or electronic assignments.
Feedback and assessment: Instructors can create dynamic rubrics while grading assignments which allows them to collaboratively grade large assignments with multiple graders to promote consistency.
iClicker
Feedback and assessment: You can use your own device (smart phone, tablet, laptop), or an iClicker, to participate in polling and low-stakes assessment during synchronous meetings. iClicker software includes the ability to access study guides generated from class polls and provides instructors with variation in poll structure.
Presentations and performances: You can record a presentation using Teams. Your video can be submitted to the instructor by sharing a link to Stream link that's automatically generated in the Dropbox with the class by sharing a link to Stream in Discussions.
Collect assignments: You can submit assignments electronically to the Dropbox tool in MyLearningSpace (MyLS) and receive feedback and grading information.
Presentations and performances: You can record a presentation using a smart phone, tablet, or laptop, and share the recording in MyLS with the instructor through the Dropbox or with the whole class via the Discussions.
Feedback and assessment: Instructors can provide your class with written or audio recorded feedback comments and annotate directly on the files you submit to the Dropbox.
Share grades with students: Instructors can share grades for individual course elements directly with you and link to grades from other course tools so that you and your classmates can keep track of your progress.
Offer exams or quizzes: Used to offer open-book assessments. Your instructor can create different types of auto-gradable questions, such as multiple-choice, true or false, short answer, fill-in-the blank, and matching. Written response questions must be graded manually by your instructor.
MyLS Video Assignment
Presentations and performances: You can record a video assignment directly in MyLS and submit for assessment.
Collect assignments: You can submit a paper, review others' assignments, and provide feedback to peers.
Facilitate secured online exams that prevent students from using their computer: LockDown Browser "locks down" the browser on your computer or iPad while you take an online test using the MyLS Quizzes tool. LockDown Browser disables the function to copy, print, access other applications, or visit other websites during an online exam.
Virtually proctor an online exam: In addition to the functionality noted above to Lockdown Browser, Monitor records you during your online test. The video is available to your instructor afterwards. Monitor uses artificial intelligence to flag elements of videos which may require further review.

In August 2021, Laurier announced that it is transitioning away from the use of AI-driven remote proctoring software. During this period of transition, you have the option of being assessed without the use of Respondus Monitor using an alternative assessment method as chosen by your instructor. Learn more about the fall 2021 option period.
Feedback and assessment: Instructors can use Turnitin's Feedback Studio to provide feedback and check originality of your assignment submissions. Instructors can click and comment inline on the assignment or drag and drop pre-made comments into place.
Wilfrid Laurier University uses a range of technologies to facilitate in-person and remote instruction. Zoom is currently used for remote course delivery, including lectures, seminars, and group office hours, which may be recorded, stored and shared through MyLearningSpace for access by students in the course. 
For these course activities, students are permitted to turn off their cameras or use an alternative name to maintain their privacy after they have confirmed this with their instructor. Student personal information is collected and used in the course in accordance with University policies and the Notice of Collection, Use or Disclosure of Personal Information.
Presentations and performances: You can give a live presentation using Zoom if you are the temporary host of Zoom meeting, or you can create local recordings, which can be submitted to your instructor by sharing a link in the Dropbox with the class by sharing a link in Discussions.
Virtually proctor a one-on-one online exam: 

To facilitate one-on-one virtual exam proctoring, in some cases, Zoom can be used by instructors, proctors and the Accessible Learning Centre.

Students are not recorded, and cannot be asked to share personal identification information, so a video is not available afterwards.
All exams and midterms in a course that are conducted online will be proctored using only technologies approved for assessment at Laurier as outlined on this page. 
Additional Information
Assessment tools are regularly under review by educational technologists and ICT team members for potential future use at Laurier. We will continue to update this list as new tools are added to the suite of institutionally supported assessment technologies.