Calendar (MyLS Course Tool)
The calendar is a course tool in MyLS.
You can use the tool to:
arrange and visualize course events in multiple views,
enable integration of course content and your calendar, and
use iCal to synchronize with your personal calendars such as Outlook, Google Calendar, iPhone and Android.
Overview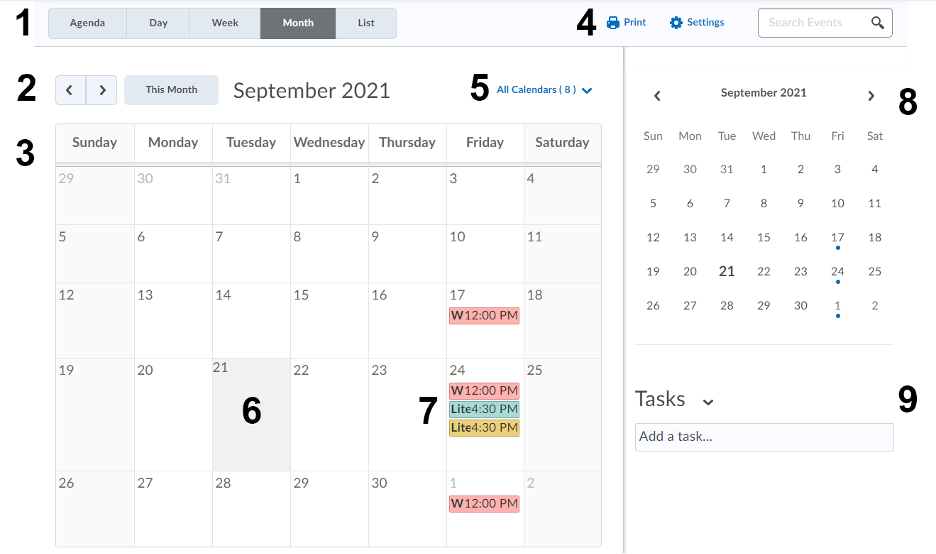 1. Calendar Views:
Use the calendar views area to toggle between different event display layouts.
Agenda view: Group your course events by Date, Course, or Category. Events display in chronological order, and all-day events display at the top of each grouped listing.
Day, Week, and Month: Group your events in daily, weekly, or monthly increments.
List view: Filter your events by Dropbox, Checklists, Discussions, Events, Grades, Materials, Modules, Quizzes, and Surveys.
2. Navigation: Use the calendar content area to navigate through your content. Navigation will vary depending on the view you select.
3. Calendar View: View events in a calendar view.
4. Print, Settings, Search: Print the calendar, change your settings, and search for events.
5. Calendar menu: Select multiple calendars to display, change the color scheme associated with individual calendars, and add new calendars.
6. Active Day: Today's date.
7. Events: Displays events from each calendar.
8. Mini Calendar: Use the mini calendar to navigate quickly to a specific day, week, or month.
9. Tasks: Keep track of personal deadlines for yourself. To add a task, click the "Add a task…" box, type a name for your task and hit the "Enter" key.