Dropbox (MyLS Course Tool)
The dropbox is a course tool in MyLS.
The dropbox tool allows your instructor to create folders for each assignment so that you can submit your assignments inside of MyLS, within a specific period.
After you upload your submission, you will receive an email confirming that your file was submitted.
Once your assignment has been graded, you can return to the dropbox folder to view your grade and any feedback your instructor has left.
Overview
Folders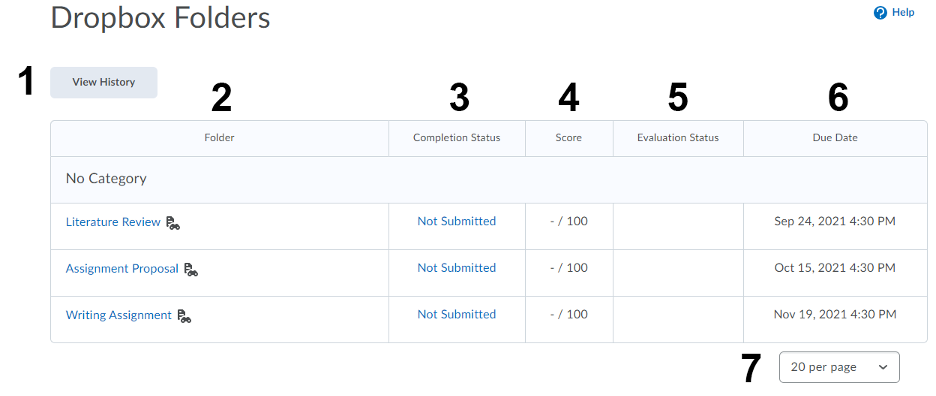 1. View History: View submission history.
2. Folder: Name of the dropbox folder.
3. Completion Status: Status.
4. Score: Score given on the submission.
5. Evaluation Status: n/a
6. Due Date: Assignment due date.
7. Number per page: Displays the number of folders per page.
Assignment Submission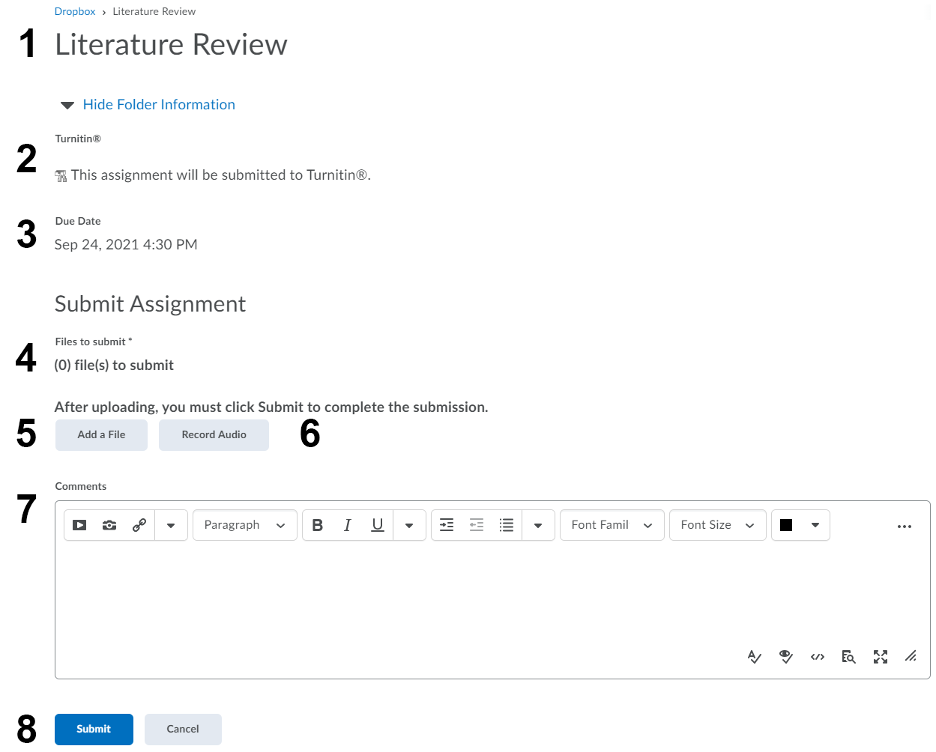 1. Folder name: The name of the dropbox folder.
2. Turnitin: Shows that Turnitin is enabled on this folder.
3. Dates:
Start Date: When the folder becomes available for submissions.
End Date: When the folder is no longer available for submissions.
Due Date: When the submission is expected to be submitted to the folder.
4. Files to Submit: Lists the files that will be submitted.
5. Add a File: Button to locate a file to submit.
6. Record Audio: Record audio to include in the submission.
7. Comments: Add comments to a submission.
8. Submit: Click "Submit" to submit to the folder.
Accepted File Types
The following file types are accepted by the assignment viewer.
Web document: HTM, HTML, MHT, MHTML

Note: MyLS strips the <title> tage and text within the tag from user created web documents.

Text document: RTF, PPT, PPS, PDF, DOC, DOCX, PPTX, XML, XLS, TXT, WPD
Image: JPG, JPEG, PNG, GIF, BMP, TIF, TIFF
Media: SWF, MPG, MPEG, RM, MP3, MP4, M4V, M4A, AVI, WAV, RAM, ASF, MOV, RA

Note: The extensions MP4, M4V, and M4A allow users to drag entire albums, video podcasts, and movies from iTunes.