Changes to Student and Alumni Email
Important Note:

 
Google Workspace (specifically Google Drive) is no longer supported by Laurier as we migrated to Microsoft in 2021. Access to the Google Drive for your mylaurier.ca account will be removed starting in Jan 2023. If you would like to keep any files currently stored on your Google Drive, please move your files to an alternative storage location by December 2022.
---
On June 9, 2021, ICT completed the migration of all student email accounts from Gmail to Outlook.  
It is important to note that you will need to log in to outlook.office.com to receive new emails. Your Gmail account will no longer any new emails after this date.
This migration will provide students with the following benefits:
the same email platform as faculty and staff, facilitating easier collaboration

 

the ability to use the calendar functions on Outlook, Microsoft Teams, and other Microsoft tools to allow for easy meeting set-up

 

an integrated software suite that includes communication, creation, and collaboration tools in one place  

 

increased account security being hosted within Laurier's main tenant

 

 
The upgrade will provide alumni with the following benefits:  
the same email platform as faculty and staff, facilitating easier collaboration
increased account security
If you are continuing to have issues setting up your account new Outlook account, please review the Frequently Asked Questions that are available on students.wlu.ca and contain video guides for different operating systems. If you continue to have issues setting up your account, please reach out to us at support@mylaurier.ca.  
Roll-Out Plan
ICT plans to start rolling out these changes starting on April 2, 2021, targeting specific groups who will be notified prior to the migration. All new students who accept offers of admission for future semesters after May will be automatically provided with a new Outlook student email account.  Our tentative rollout schedule will be as follows: 
Alumni: Starting in April 2021
Current Students: Starting in May 2021
All groups completed by July 2021
What's New
The primary difference will be the look and feel of your inbox and the way in which emails are sorted. Because Outlook uses folders instead of labels, after the migration any email message marked with a label in your Gmail account will be put into a folder in your Outlook account.  
Your Migration
Students and alumni whose accounts are scheduled to be migrated to Outlook will receive an email prior to the change explaining the new method of logging in and the date when the changes will take effect.
How to Log In
Once the migration is complete, access your email messages in Outlook at outlook.office.com. We recommend you bookmark or favourite this URL for future reference. 
Your MyLaurier Outlook login credentials are the same as they were for your Gmail account. Sign in using your @mylaurier.ca email and password to access Outlook.
Google Drive
Access to Google Drive will be retained but email will be moved from Gmail to Exchange. By using your Microsoft Exchange account, you are subject to the following Terms of Use.
Items to be Migrated
When your account is upgraded, email messages, calendar entries, contacts (to a maximum of three addresses per contact) will be migrated to Outlook/OneDrive.  
Items that are not Migrated
In contrast, the following items will not be migrated:
Mail: Vacation settings, automatic reply settings; filters/rules
Meeting rooms: Room bookings
Calendar: Shared calendars, cloud attachments, Google Hangout links and event colours
Contacts: Gmail tags, contact URLs and custom tags
Google Drive: Files stored on your Google Drive will not be migrated to OneDrive
Frequently Asked Questions
Outlook for iOS:
Outlook for Android:
Please note this option is only available to students, not alumni.
Use Mover.io to transfer Google Drive to OneDrive. This method works best if you have a lot of files and folders. You may still need to manually transfer files  with errors.  
Note: Before starting the process, make sure you can access your OneDrive 
1. Go to https://mover.io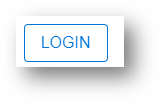 2. Click "Login"  Click "Sign in with Microsoft"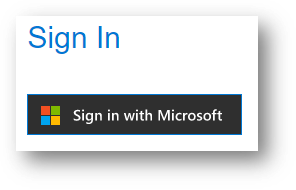 .  
3. Sign in with your mylaurier.ca account  
4. Click "Authorize New Connector" under "Step 1: Select source"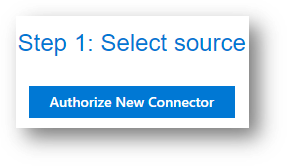 5. Click "Authorize" for "Google Drive (Single User)  

6. Set a DisplayName, eg: MyGoogleDrive, then click "Authorize".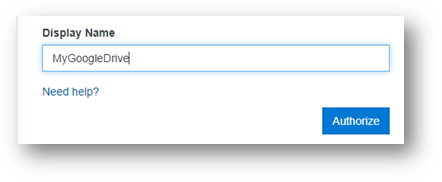 7. Sign in with your current mylaurier.ca account to Google.   
8. Click "Allow" to provide access to Mover, make sure it's your mylaurier.ca Google Account listed.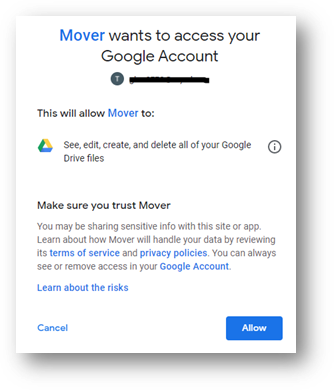 9. Mover should be able to list the folders under your Google Drive.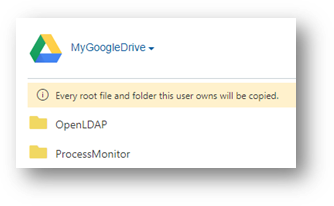 10. Click "Authorize New Connector" under "Step 2: Select destination"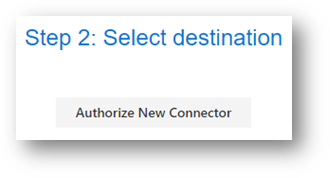 11. Click "Authorize" for "OneDrive for Business (Single User)  

12. Set a display name, eg: MyOneDrive, then click "Authorize"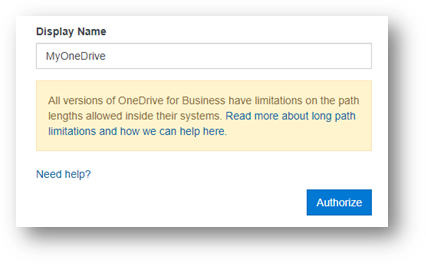 13. If prompt, login with your mylaurier.ca account to Microsoft 365.  
14. Click "Accept" to grant permission for Mover to access your OneDrive.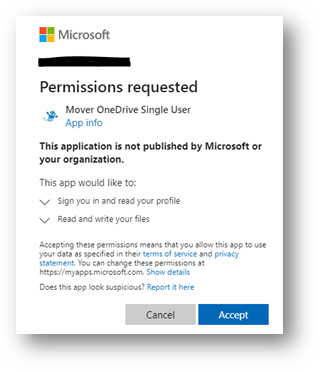 15. Mover should be able to list files and folders under your OneDrive. You may have no files or folders if you didn't use OneDrive before.

16. Click "Start Copy" under "Step 3: Start transferring"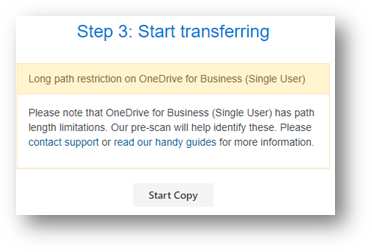 17. Mover app will start the transfer. The status will show as "Running" and changed to "Success" when it's finished.

18. You can close the web page and check the status later.  

Login to https://mover.io with your mylaurier.ca account, and click on "Migration Manager" to see the status.
In the Add Account box, enter in your @mylaurier.ca e-mail address and select continue

It will prompt you to setup with Select 'Not Google' on the top right-hand corner

It will prompt you for your Enter it and select Sign In and your e-mails will sync on the Outlook for Mac Desktop Application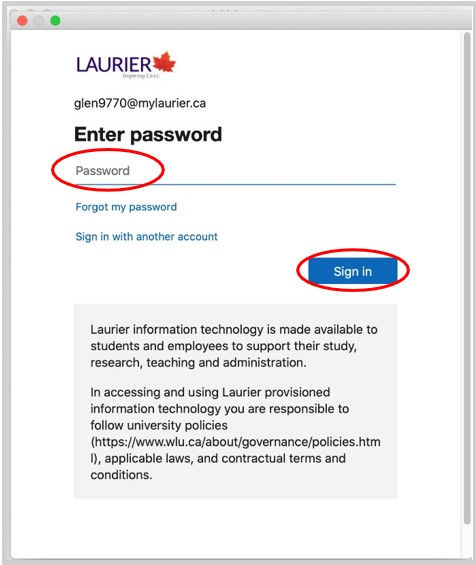 In the Add Account box, enter in your @mylaurier.ca e-mail
Select the Advanced Options Drop down menu
Check the box with the label,"Let me set up my account Manually" and select "Connect".
Select the Exchange icon located on the top
Make sure the "Use Cached Exchange Mode to download email to an Outlook Data file is checked.
Make sure your slider is set to the far right "All" option.
Hit "Next".  It will prompt you to reset your Outlook app, which will sync an activate your emails.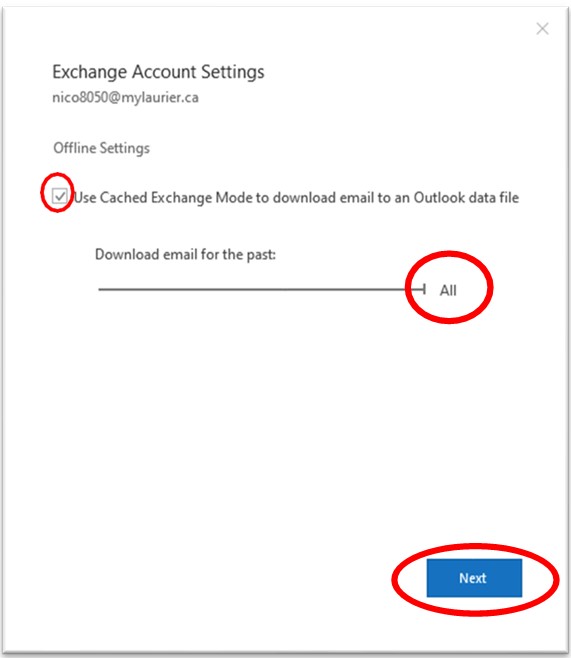 If new emails are going to your Archive folder, please double check that you have set up the account as Exchange and not Gmail. To check this, open the settings tab on your device and see how the Mail Account was set up.
If the account is set up as Gmail, delete the account and re-add it as Exchange. Check out the How do I add my @mylaurier.ca email to my mobile device? FAQ above.