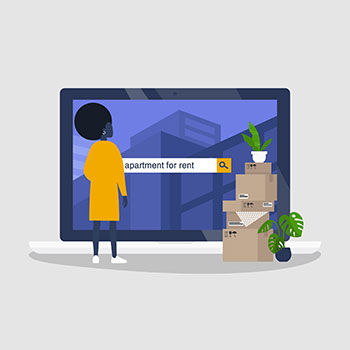 Questions to ask while viewing off-campus rental properties
To help you feel confident while viewing properties, we suggest these seven questions to ask. 
If you have any questions about the off-campus housing process or would like to meet us one-on-one, email offcampushousing@wlu.ca. 
How Long Have the Current Tenants Been Living Here? Why are They Leaving?
You won't always have the opportunity to speak with the current tenants, so take this as an opportunity to ask the landlords. 
What are the Average Utilities Costs?
Utility costs can vary depending on the amenities in your unit. More amenities mean higher utility costs. 
What was the Last Major Repair You had to Perform?
Repairs can give a sneak peek into the overall state of a unit. If five or more repairs have been completed within the past year, you can often to expect more to come. 
Who is the Main Point of Contact? 
Sometimes, the landlord is not the main point of contact for a property. 
Often times, they have a separate on-call contact. 
Who is Responsible for Lawn Care and Snow Removal? 
This is very important for winter. Snow removal is just as much of a safety concern as it is a general concern. 
Will the Property be Cleaned Prior to Move In? 
An already clean apartment makes for an easier move-in experience. 
Make sure the current tenants have moved out and the space is clean prior to your move-in. 
Is Parking Something that is Included?
If not included, parking can add a large sum to your monthly expenses. 
Make sure you check ask this question before signing a lease.