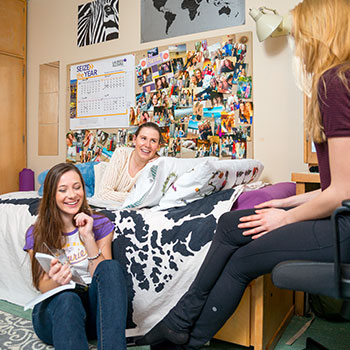 Living with Roommates
Every individual in residence has the right to live in an environment where their personal possessions and communal spaces are secure, and their personal and academic goals are attainable.
Roommate Agreement
When you move into residence, you will be asked to collaboratively develop a roommate agreement if you share a space. In the Roommate Agreement you will discuss the following:
communication
cleaning
alcohol
smoking and cannabis
sleeping
noise
personal property
guests
If terms of this contract are not being upheld, students are encouraged to respectfully review their roommate agreement as a group and through effective means of communication.
Your don will be available to assist you with this process should you need. Residents who do not uphold the roommate agreement may be required to follow up with their Residence Life area coordinator.
Roommate Conflict
When faced with a conflict, communication and timing is important:
Complete a roommate agreement with the support of your don
If a problem arises, talk to your roommate(s).
Review and revise your roommate agreement through a facilitated conversation with your don.
Provide some time/opportunity to live with the agreed upon revisions in place.
If the situation is still not resolved, you may request a meeting with your Residence Life area coordinator.
The Residence Life area coordinator will meet with you to hear your concerns, and depending on the circumstances, will then likely conduct a roommate mediation with all parties involved.