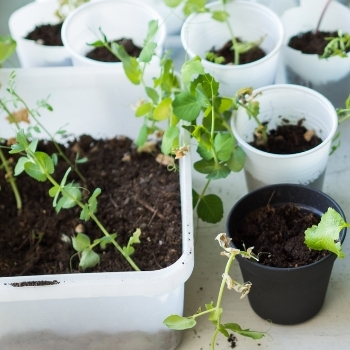 How to be sustainable this summer
With the summer here, the Sustainability Office wanted to share four ideas to practice sustainability at home! Whether you're in an apartment or living in a house, these four ideas will help you to build new sustainability habits and learn one or two new things along the way.
Maybe you've already adopted many of these practices or habits. Then challenge yourself to going further with these actions. You might challenge yourself to a weekday plant-based meal plan or only committing to buying 80% of your goods from a thrift store or second hand. Embed one or all of these different ideas to stay sustainable this summer!
Build a Container Garden

Have you ever wanted to start your own garden but you're limited by backyard space or apartment-living? There's still an option to save money and learn something new by building a container garden. There are many benefits to investing in a container garden such as relaxing during your new hobby, expanding your knowledge on gardening, and attracting local pollinators to your space.
Here is how you can get started with building your container garden:
Determine sunlight.
Determine how much sunlight you get on your balcony or backyard. This will help you determine which plants you should have in your container.
Find your containers!
Use old buckets or recycled items and ensure they have proper drainage holes at the bottom.
Figure out what plants you would like to have.
Depending on your location, reference the list of Bee Cities across Canada to see which native, pollinator-friendly species to plant.
Consult resources.
For more specific info, check out the Live Green Toronto Article on container gardening.
Try a Week-Long Plant-Based diet

Over the past few years, we've seen a rise in plant-based diets and options. In early 2019, Health Canada launched the new Food Guide, which promotes plant-based eating as a major portion of your daily food intake. Whether it's for health, environmental, or interest-based reasons, there is something for everyone to try! Go plant-based for a week and challenge yourself to easy, affordable recipes.

Here are a few top vegan blogs:
Chocolate Covered Katie – If you have a sweet tooth and want to try some comfort-food desserts, this is the place to go!
Oh She Glows – Unique, healthy plant-based options for any meal
Minimalist Baker – Has many food options from plant-based, gluten-free, dairy-free and more
Get Creative – DIY Thrift

Sometimes local thrift stores can be a treasure chest of perfectly-usable items that just need a little refresh. Whether it's re-purposing containers for plants or painting frames, there is always projects that can add character to your home.
Some ideas for repurposing thrift store items include: planter urns, jewelry trays, and a $2 bulletin board makeover.
Of course, the ideas don't end there. Next time you're looking for a new decoration or purposeful item, check your local thrift store and get creative.
Update Your Organization for a Peace of Mind

If you have some time on your hands, get ready to declutter and give yourself a peace of mind! Often times we overestimate our needs and purchase items that a) don't serve a purpose or b) bring us some sense of satisfaction or happiness. Going forward, you can keep track of what you need and make the best of it
These are four tips to step up your de-cluttering and organization game:
Pick one section of your home to declutter.
It could be as small as a drawer or as large as a closet. Start sorting through piles of – keep, "maybes," donate, or toss.
Keep books, magazines, etc. off the floor.
Do you have a section of books, magazines or activities that seem to always find their way on the floor? Then repurpose wooden fruit crates or baskets and tuck them into the corner.
Recycle.
Set-up a mini recycling station in your kitchen and other areas of the house. To properly recycle end-of-life items, have a small basket for (rinsed) containers, a folder or bin for "paper" items, and ensure you have your compost bin on your counter or under your sink.
Rethink pantry/cupboard organization!
Determine what items you purchase most – rice, beans, pasta, etc. and have dedicated glass containers for these items. Make an effort to purchase those items in bulk and only purchase items that won't be sitting on the shelf forever.
Every day you have the opportunity to live sustainability at home, at work, or on campus. At Laurier, the Sustainability Office offers programs to embed sustainable practices in your everyday life. From a Freestore to offering Fairtrade coffee on campus, there are always ways you can make sustainability the norm in your daily life.