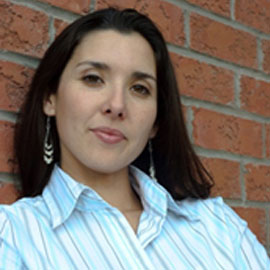 Marketing Communications Coordinator (Sociology, BA)
Elisabeth Araujo née Oliviera, Etobicoke Ironworks Limited 
Elisabeth Araujo graduated with a BA in Sociology and Communication Studies in 2004. She currently works as a marketing communications coordinator with Etobicoke Ironworks Limited, Canada's largest scaffold manufacturer. As a communications professional, Elisabeth's days are spent monitoring inquiries, creating and executing advertisements and editorial campaigns, as well as planning tradeshows and industry events.
One notable project for Elisabeth was being involved in the design and implementation of an in-house company newsletter, which was launched in 2004. The newsletter has since become a successful quarterly in-house publication that serves as a centralized communication platform and brings a sense of unity amongst office staff and plant employees. Elisabeth credits the versatility of her role and projects, to the benefits of working in a medium sized company where there is more opportunity to "colour outside the lines," than perhaps there would be in a larger sized firm where roles are often more defined and there is a larger ladder to climb. Elisabeth feels lucky to be working with a company that affords her opportunities to work closely with the sales, administration and IT departments. "We all pool our efforts to drive the company name and remain top of mind to our customers and prospects."
During Elisabeth's tenure at Laurier, she volunteered for four years in the advertising department of the WLU Student Publications office. After convocation, she took part-time courses at Humber College and obtained a Professional Sales Certificate and volunteered as an event planner with a charitable organization. She plans on continuing her professional development and networking while volunteering for Habitat for Humanity. Elisabeth suggests that volunteering in an area that is aligned with your career interests will keep you energized and undoubtedly assist with your career planning.
Elisabeth offered the following advice to students looking to get into the marketing field:
Demonstrate hard work, diligence and a true eagerness to make a difference.
Secure summer work at companies of interest, even if it's entry-level, or in roles related to your career aspirations. (Elizabeth held two summer work terms with her current employer, which ultimately led to her full-time position).
Talk with your peers, past employers and keep posted on the latest industry events and trends.
"Never burn your bridges" – maintaining positive relations is a sure way to get referred and have people keep you in mind when a position comes up. "This sounds very old fashioned but it is one of those things that no matter how much technology advances, it will always remain simple and true."
Use as many directories and company listings as you can find. There is a lot out there online – so just get searching!
Research and join professional associations related to the field you are pursuing, as they are a great networking tool (i.e. Canadian Communications Association).
Be comfortable with cold calling, which involves approaching people pro-actively and following up. These skills are necessary to succeed, so use your job search as your first big project in getting comfortable with this process.
Create a "LinkedIn" profile. LinkedIn is a great social media network for marketing/sales. (Elisabeth considers Facebook more personal for friends and family, although many companies are advertising and creating groups on Facebook).