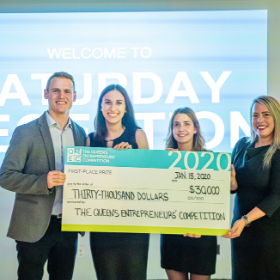 Laurier Student-run Venture Wins Back-to-Back Entrepreneurship Competitions
EarthSuds, a company founded by two Laurier undergraduate business students, is shaking up the travel and personal care industries with its innovative solution to reduce the use of small format plastics. Marissa Vettoretti and Daniel Moll have developed solid, single-use tablets of shampoo, conditioner, and body wash that require no plastic packaging and are friendly on the environment.
On Jan. 19, EarthSuds won first place at the prestigious Queens' Entrepreneurs' Competition (QEC), and on Jan. 25, they secured an additional first-place win at the Ivey HBA Business Plan Competition at Western University. According to Vettoretti, "It's been exciting to get recognition from these competitions as it helps to build validity and awareness for our business. This is what we needed for scaling our e-commerce and retail segments." 
"[The QEC is] one of the longest-running and best-known undergraduate business plan competitions in the world." (The New York Times). Submissions are received from entrepreneurial students around the world. Just 15 entrepreneurial teams are selected and invited to pitch their business plans to a panel of Canadian business leaders over a weekend-long competition in Toronto. The first-place title came with a monetary reward of $30,000, which will help Earth Suds scale production. The Ivey competition is made up of undergraduate teams, from all disciplines, from universities across Canada and the United States. EarthSuds' first-place finish secured them another $15,000. Besides the prize money, the competition wins provide validation that EarthSuds is building a solid business with strong market potential.
EarthSuds tablets are sulfate and paraben-free, vegan, all-natural, and never tested on animals. In today's marketplace, many customers are not only looking for high-quality products but ones that also have an ethical and sustainable focus and align with their own values. To date, their largest market has been home use. The team initially focused on the hospitality industry, which has historically relied on providing guests with small non-recyclable toiletry bottles and has recently been struggling to find a sustainable solution. EarthSuds is also seeing an uptake in the travel industry, as travellers identify its products as a solution to liquid flight restrictions.
The venture is part of Laurier's Enactus program and also receives support through Laurier's LaunchPad incubator. "We are so incredibly proud of EarthSuds. To see them grow from the very beginning to where they are now is inspiring. They have a great product that solves a very important problem, and they are smart, impressive students. I know they'll go far," said Laura Allan, faculty advisor for Enactus Laurier and executive director of the Schlegel Centre for Entrepreneurship & Social Innovation that runs the Laurier LaunchPad incubator on both the Waterloo and Brantford campuses.
The venture has come a long way from when Marissa first came up with the concept during a design challenge in the summer of her first year at Laurier. She attributes much of the company's progress to assistance provided by Enactus and LaunchPad. Enactus is one of the largest student leadership organizations in the world, with the mandate of "engaging the next generation of entrepreneurial leaders to use innovation and business principles to improve the world." Building the company through Enactus and nurturing its growth through LaunchPad have been the perfect combination for this purpose-driven company.
"At EarthSuds, we believe that products should be made ethically with our future in mind, but also that the pursuit of sustainability shouldn't compromise quality. We aim to replace the 5.7 billion plastic cosmetic bottles sent to North American landfills every year. We also incorporate social sustainability into our business model by employing adults with developmental disabilities in our production process," says Vettoretti. 
Their goal is ambitious, but they are well on their way. Currently, to date, they have sold 65,000 EarthSuds tablets, and in doing so have saved over 13,000 plastic bottles, reduced close to a metric tonne of CO2, saved 13,000 litres of water and over 270 litres of oil, and eliminated over 331 lbs of plastic waste from entering landfills. Thanks EarthSuds!
EarthSuds will soon be competing in their third competition in so many months, as they compete in Enactus Canada's Central Region competition. Stay tuned to see if they can make it three wins in a row!
To learn more and see the line-up of EarthSuds products visit https://earthsuds.co/