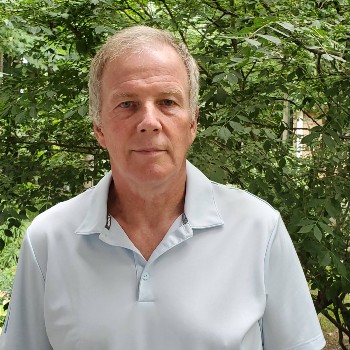 StartUp Lab Mentors | Richard Neidert
By Alex Kinsella
Bringing a startup to life takes grit, patience and vision. It also helps to have advice and guidance from entrepreneurs who have been where you are in your journey. Laurier's StartUp Lab mentor program brings together highly successful and dedicated alumni and community members who volunteer their time to support Startup Lab's founders. In this series, we're introducing you to a few of our mentors to share their advice on entrepreneurship and startups.

Bridging the tech and business world comes naturally for Richard Neidert, one of our StartUp Lab mentors. While he earned his Bachelor's and Master's degrees in Systems Design and Electrical Engineering at the University of Waterloo, Neidert also spent time taking business courses at Wilfrid Laurier University in the inter-university engineering and business program offered at the time.

After graduating, Neidert followed the technical route and began his career at Ainsworth Technologies Inc in Cambridge, Ontario. He quickly rose through the ranks to become president at Ainsworth and guided the company through a series of sales to Canadian and German companies. Neidert has worked as a consultant and in leadership roles throughout his career, helping companies turn around and grow their operations. In 2018, with the sale of a major client, Neidert decided to slow down and even considered retirement—but it was a decision that he'd quickly rethink.

"Together with a partner I still had a small software business that I enjoyed working on , but. I liked being busier and that's when I found the mentorship opportunity at StartUp Lab," Neidert said.

Having a mentor can be critical to success for many entrepreneurs and founders. Neidert said he was fortunate to have great mentors from his time in university through to his early career days.

"I had a lot of good mentors along the way and then became more of a mentor myself. I found myself bored, and not needing to work for money anymore, but I still had quite a bit to offer in terms of experience."
Sharing experience with new founders
Neidert's engineering and business leadership experience complements our mentor program's sales, marketing, and manufacturing experience. His experience growing and selling engineering companies often comes up in conversations with the founders he mentors—especially the time and work it takes to bring an idea to market successfully.
Using the example of local tech leader BlackBerry, Neidert said that many people don't realize that the company was building solutions and products for almost 20 years before they launched the BlackBerry and changed the way people around the world communicate.

"Everybody seems to think that you come up with an idea, you spend a few months working on it, then you go raise 10s of millions of dollars and you're wealthy," Neidert said. "But that is pretty rare. It's no different than a football player signing a major contract. Sure, it's big money, but how many kids are playing in the U.S.?"

Most incubators and other startup organizations have mentor programs, but Neidert said he was attracted to StartUp Lab because the program used a volunteer model rather than paying mentors.

"It's as much commitment as you want to give. I think it's unique and I was intrigued by the opportunity," Neidert said. "Long story short, I'm really enjoying the interaction with the founders—and I'm enjoying getting to know and work with the other mentors who bring their experience to the program."
"What we provide is mentoring to teach the process of developing an idea into a business. It's an almost scientific process..."
The science of startups
As an incubator, the StartUp Lab team and mentors work with founders to help take their idea from concept to a market-ready venture. As an engineer, Neidert said that there is a science to making startups successful.
"What we provide is mentoring to teach the process of developing an idea into a business. It's an almost scientific process starting with market research to building a prototype or MVP to more research and refinement."
Going back to the BlackBerry example, Neidert said that he had a mentor early on who said they were great at coming up with ideas—but that the secret was finding which of them was great. His mentor said out of five ideas, three would be great and two would be bad. The secret was working every day to figure out which were the good ones and which were the bad ones.
Neidert said. "He said he'd be a really good baseball player with that kind of average, but in business, that's not great."
Having the hard conversations
Neidert's approach to mentoring founders isn't based on the idea. Instead, he said he looks for founders who are passionate about their vision and want to do that work.
"I can lead you through the process to help you figure it out. Then you're going to make all of the decisions on what you're going to do because it's your business, not mine. I'm going to ask all the hard questions and hold you accountable to follow the process."
Mentoring founders is more than giving encouragement and advice. It often involves having hard conversations about how the venture is developing and dealing with setbacks. Neidert said he leans on experience in corporate turnaround consulting when these conversations are required.
There are often businesses that can't be turned around or fixed for many reasons. Neidert said that sometimes he had to tell the business owner that the business was not recoverable and it was time to cut their losses.
"Nobody wants to hear that message. The important thing is to have done the research and have the evidence to prove that that's the right answer. What I'm trying to teach my ventures is that entrepreneurship is not magic. You have to prove your concept. You have to refine the product. You have to do the market testing. I don't see that being taught anywhere and that's where StartUp Lab comes in," Neidert said.
Want to get involved? Ask us how at startuplab@wlu.ca.
Contact Us:
StartUp Lab

E: startuplab@wlu.ca
Office Location: 64 University Avenue West - LH1021

Office Hours:
8:30 a.m. to 4:30 p.m.