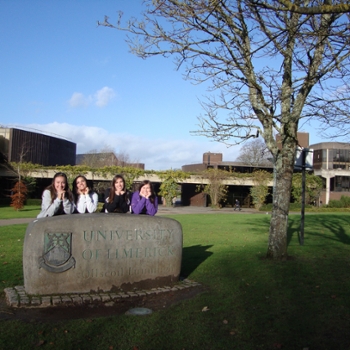 Receiving and Accepting Your Exchange Placement Offer
You've submitted your student exchange application but what happens next? After the application deadline has closed, we review all applications and will notify you at the end of February about your exchange placement. You can then accept your offer and move forward with the nomination process and completing the application for the host institution.
Exchange placement offers for the 2020/21 academic year, for applications received by the January 29 deadline, will go out on Friday, Feb. 28 by 4:30 p.m. 
Accepting Your Exchange Offer
When you have decided to accept your exchange offer, send an email confirmation to Laurier International. You'll have a week to decide to accept your offer. If you don't accept in that week, we will assume you have rejected your offer.
If you don't receive an offer to one of your three selected host institutions, we'll provide you with a list of exchange spots still available on MLS's coures "Student Exchange Program" (you can self-register).
You may need to resubmit some documents (for example, the Departmental Approval form) but you won't need to resubmit your entire application. You will also have one week to email Laurier International that you have accepted an alternate exchange spot. 
Declining Your Exchange Placement Offer
If you decide that you don't want to attend the host institution where you've been placed, you can decline your placement and consider other host institutions that still have space for exchange students.
You can apply to another institution by submitting another departmental approval form signed by your academic advisor. No other documentation is required. If you do decline and reapply, your application will be considered along with the other applications.
However, if you are reapplying after declining your offer, you will only be considered for an exchange placement after all other applicants have been placed. Students who applied for exchange but were not placed in one of their top four choices will be given priority ahead of students who reapply after declining. There is no guarantee there will be a spot available for you if you reapply after declining your original placement offer. 
Please note that you can't switch your exchange placement with a friend.
Nomination and Host Institution Application Process
Once you have accepted your exchange offer with Laurier International, we can start the nomination process. You will also need to complete an application for the host institution.
Nomination Process
After you have accepted your offer, submitted the required waivers and paid the $100 placement fee, we will nominate you to the host institution. Once you are nominated, you will receive an application form from the host institution. 
Host Institution Application Process
After you are nominated by Laurier International, either the Laurier International office or the host institution will contact you with the instructions on applying to the host institution as an exchange student.
Every host institution has a different application process and deadline. It is your responsibility to ensure that you follow the application instructions and apply by their deadline. Laurier International will not be reminding you of the application deadline.
Acceptance to the Laurier International Student Exchange Program does not guarantee acceptance by the host institution. While the host institution has right to refuse admission, this is not likely to happen because we have nominated you as an exchange student and have already negotiated space for you at the host institution.
Generally, students who are studying abroad in the fall term will apply to the host institution any time between March to June. Students studying abroad for the winter term may be able to apply early, but generally would be applying any time between August and December.
Tips for Completing the Host Institution Application
Each host institution will have a different application but some of the same information may be required, no matter where you are applying. Here is some standard information that may be requested on the host institution application:
Waterloo and Brantford students should use this address for Laurier on the application form: 
Wilfrid Laurier University
Laurier International
75 University Ave. West
Waterloo, Ontario N2L 3C5
If the application requires a signature, you can have Allison Donahue (Waterloo) or Anne-marie Henry (Brantford) sign it. Be sure to give yourself enough time to meet with the coordinators in person to sign the forms. You can schedule an appointment by emailing them.
If you are required to send a transcript you will need to order one from Service Laurier. This request can take a few days, so give yourself enough time.
The host institution may send you your acceptance directly, or they may send it to Laurier International. If we receive it we will let you know as soon as possible. If you receive your acceptance directly please email us to let us know.
We recommend that you don't make any travel plans, including booking your flight and securing accommodations, until you receive your acceptance from the host institution.
Withdrawing from the Exchange Program
We understand that certain circumstances may require you to withdraw from participating in the student exchange program. If you do have to withdraw, please note that:
The $25 application fee is non-refundable.
If you withdraw after you have been placed with an exchange partner, the $100 placement fee is non-refundable.
Your spot in the exchange program is reserved just for you. If you are considering withdrawing, please do so as soon as possible to open up your spot to another student.
The host institution will also be preparing for your arrival, and will need to be notified.
There is no deadline to withdraw.
If you are considering withdrawing, or would like to talk to someone about your options, you can book an appointment with the Student Abroad Advisor in Waterloo or the Coordinator, Global Engagement Programming in Brantford and they will be happy to help you make the decision that is best for you.
Waitlists
If you have been offered a placement and choose to decline your spot, you can email Allison Donahue, Student Abroad Advisor, and ask to be placed on a waitlist with your preferred institution(s). You can't accept your offer and be on a waitlist at the same time.
If you did not receive a placement offer, you can also ask to be placed on a waitlist.
You'll be contacted by email if a space becomes available. If you are contacted, you will have one week to submit a department approval form to Laurier International, signed by your Academic Advisor/Program Coordinator. A new department approval form is only required if your original application does not have signed department approval for the institution you're offered.
It is rare that a waitlist spot becomes available, but it can happen when a student declines their placement or withdraws from the exchange program.