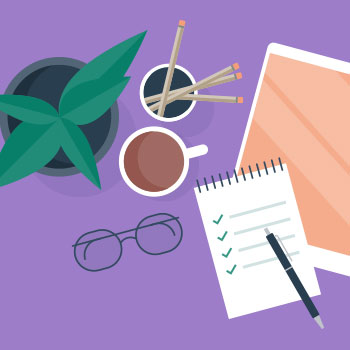 Get Reading Week ready with these supports and resources
Winter-term reading week is the perfect time to regroup and recharge after the busy start to the new semester. It's easy to feel overwhelmed, stressed and isolated during this time, whether it's because of school, life or anything in between. We're here to help. Check out these resources available to help you with your schoolwork and well-being.
What's Open During Reading Week
Winter-term reading week is Feb. 22 to 25. Laurier campus and locations will be closed Feb. 21 and 22. Check out what's open when during reading week.
Reading Week One Hour at a Time
Study using a 60-minute cycle called the Power Hour. Watch the Power Hour video on YouTube to learn more.
1. Set a Goal
Take one or two minutes to decide what you want to accomplish during one hour of studying.
2. Study with Focus
For 30 to 40 minutes. Eliminate distractions to properly engage with the material you are reviewing.
3. Take a Break
For five to 10 minutes. Call a friend, check your texts, or go for a walk.
4. Review
Review what you just studied for five to 10 minutes.
Academic Supports 
ASPIRE for Graduate Students
ASPIRE offers skills training and professionalization for graduate students. The training includes lectures, workshops, group work and one-on-one consultations to help support your professional development throughout your time at Laurier, focusing on the five pillars: career, teaching, professional, research and wellness.
Time Management and Academic Success
Learn the truth about time management and academic success: how to better manage your time, stop procrastinating and balance productivity and self-care.
Academic Skills Resources and Online Workshops
Writing and mathematics workshops are also available and a complete schedule of winter workshops is posted in the Student Success Portal.
Virtual Appointments with Laurier's Learning Consultants
Professional staff and trained peer mentors can help you improve your study skills. Several appointments are available throughout reading week. To book an online appointment, visit the Student Success Student Portal.
Six Strategies for Effective Learning Video Series
Visit the Academic Skills Resources page and scroll down to the Effective Study Skills section for links to videos outlining six ways to learn effectively. Topics covered include elaboration, concrete examples, retrieval practice, dual coding, spaced practice, and interleaving.
Career Centre Workshops
Attend some career panels and networking events or an employer recruitment session and start building connections! There are also various workshops held throughout the semester to help with your professional career, including interview success and planning for grad school. Log in to Navigator for more career-related information and events.
On-Campus Study Spaces
Study spaces are available to support your needs and provide/have/offer access to Wi-Fi.
Health and Wellness Supports
Laurier's Student Wellness Centres
The Student Wellness Centres on each campus are open and conducting appointments virtually. Please call your campus wellness centre to make an appointment with a physician, nurse, mental health nurse, or counsellor.
Remote Wellness Workshops
Coping with stress, food and your mood, resiliency and self-compassion are just some of the topics covered in these online workshops. Check out the full schedule of topics covered throughout this winter.
Athletics and Recreation
Physical activity is so good for your mindset. Try an exercise class, book a workout time at the Athletic Complex or the Laurier-Brantford YMCA, or get outside in safe and physically distanced ways. Waterloo Region and Brant County are filled with beautiful parks and trails that you can explore safely.
Stay Safe This Reading Week
Containing the spread of COVID-19 is a collective effort – we all play a part in keeping our community safe. Please remember your responsibility to yourselves, your families and your communities when it comes to public safety. Visit the COVID-19 campus information for students page to learn more about safety.